Restaurant News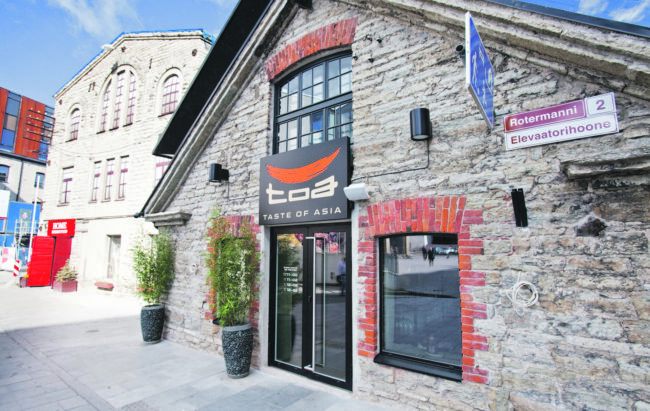 The area between the port and the city centre, known as Rotermanni is quickly filling with new shops and restaurants. TOA or Taste of Asia recently opened and has a large heated terrace. This Asian restaurant also has a fantastic cocktail list. Wines start from €19 per bottle.
By the river in Pirita, a nautical themed restaurant Sardiinid just opened in the yacht club. Head chef, Jaak Hiibus has created a menu blending Estonian and international flavours, with everything from fresh oysters to bouillabaisse to organic beef. Lunch specials are available on weekdays.
A new modern café has opened in the Estonian National Library. Poogen café and buffet will surprise you with its price quality ratio. A regular coffee costs €2, as do the wraps and cakes. The lunch buffet is €1/100g and the buffet selection changes daily. Poogen is run by the Mozart Catering Group. The café can accommodate up to 200 people.
Paldiski's most popular attraction, the Pakri Lighthouse is located over 20 m above the beach and is Estonia's tallest at 52 metres. Pakri Parun is a new café located just beside the lighthouse where you will get beautiful seaside views, as well as food.
The Telliskivi street food area has welcomed a few new places. The Rocket Street Gastro offers pulled pork from their food cart and Fritto offers fries from their container. The popular Derek Burger has also opened a small takeaway and Londiste Koogid offers cupcakes. 
Location
TOA – Taste of Asia, Rotermanni 2, Tallinn.
www.tasteofasia.ee

Sardiinid, Regati pst 1/Purje 9, Pirita Port.
sardiinid.ee
Poogen, Tõnismägi 2, Tallinn.
kohvikpoogen.ee

Pakri Parun, Majaka tee 43, Paldiski.
www.pakri.eu
Algoth, Lootsi 8, Tallinn.
https://et-ee.facebook.com/algothdistillerybar

The Rocket Street Gastro, Telliskivi 62, Tallinn. 
www.facebook.com/rocketgastro/
Fritto, Telliskivi 62, Tallinn. 
fritto.ee

Dereku Burger, Telliskivi 62, Tallinn.
www.facebook.com/DerekuBurger/
Londiste koogid, Telliskivi 62, Tallinn. 
www.facebook.com/londistecakes/

To learn more about this and similar topics