Renaissance winds have brought big changes to Olde Hansa
Text Matk Taylor
Photos Olde Hansa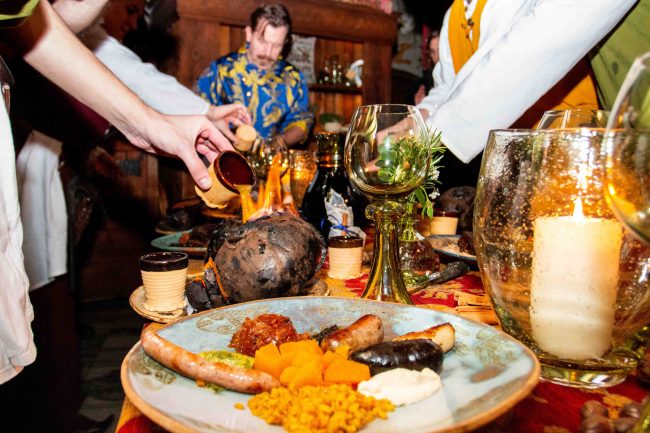 In the 25 years since it opened, more than 7 million people have visited Olde Hansa in Tallinn. For the first time in a quarter of a century, there has been a big change to the menu and decor of the medieval restaurant.
"Originally made for the pride of the people of Tallinn, the restaurant has been visited by more than 7 million people, a growing number of whom are Estonians and Italian gourmet tourists who have not visited Olde Hansa before. Estonians visiting Olde Hansa for the first time have arrived after the COVID-19 pandemic. Olde Hansa is the world's most popular medieval restaurant. It is one of the main destinations for tourists visiting Estonia. Olde Hansa is exceptional, and all visitors confirm this to us," said Auri Hakomaa, owner of Olde Hansa.
In Olde Hansa, in addition to the food, every other detail has been thoroughly thought through. From the greeting to the fabrics and paintings, and from the cutlery to the clothing of the staff. As the House of Heerold says: "In 1500, the finest fabrics were shipped directly from Paris, goblets of the noblest glass ever made from Bohemia, and the most expensive spices from Eastern merchants."
The changed menu and concept of Olde Hansa brings fresh feelings. The renaissance winds brought to the country by rich merchants have given colour to the restaurant's crockery, wall paintings, textiles and accessories. Olde Hansa takes an even longer and deeper step forward into the Middle Ages, giving every visitor the harmony of authentic period details and food.
Olde Hansa head chef Emmanuel Wille, aka Manu, is passionate about creating new medieval flavours. The new menu includes, among other things, for example:
Hansa city Bergen flamed salmon in wild mushroom sauce.
Gute Sau, glorified by Martin Luther – a delicacy of Iberian acorn pork loin with beer and ginger syrup; Long-aged veal cheek in sherry marinade. In honour of the city of Bruges, the birthplace of Grand Chef Emmanuel and the pearl of culinary art.
Deer fillet baked with love in king pork sauce with nutmeg parsnip cream.
Haggis – an organic lamb dish from Scotland. A preparation in honour of the brave Scottish king Robert The Bruce.
Flaming delight – Vegetarium Gloriam – beets cooked overnight, seasoned with herb oil. The most festive and flaming vegetarian dish.





































To learn more about this and similar topicsHansa Medieval Food Medieval Restaurant Medieval Tallinn Olde Hansa Olde Hansa Restaurant Renaissance Tallinn