Rakvere – Calm Contemplation in the Countryside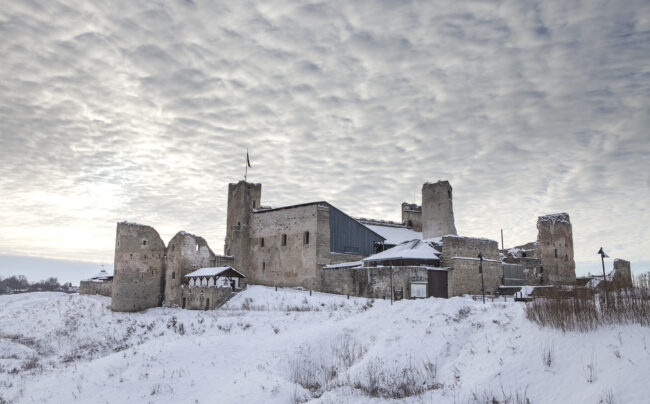 Estonia in winter has a panoply of beautiful places to visit, and it's for this reason that it's well worth getting on the Elron train from Tallinn Balti Jaam station, or the bus from Tallinna Bussijaam, and taking the journey of just over an hour, up the north coast of Estonia, to Rakvere, capital of Laane-Viru county and a compact market town full of unending surprises.
I hopped off the train and took the ten-minute walk into the centre of town, passing Inglise Pubi, the English pub, which I was not expecting to see outside of Tallinn. However, it seems Rakvere is a place that enjoys cultural cross-pollination. You can see this if you go to the main square, and put your head round the door of Berliini Trahter (Lai 15), which is a German-style tavern on the main tourist hub of the town. Although central-European lager and beer is available for evening visits, this is also a fine place to sit with friends and enjoy some lunchtime refreshment. I recommend the pelmeenid (dumplings); admittedly they're not a German snack – they're more Russian in heritage from what friends tell me – but they are delicious.
You're spoiled for choice when it comes to well-appointed cafes in the centre of Rakvere. Probably the one place everyone needs to spend time while in the town is Art Cafe (Lai 13). The walls are adorned with paintings that can be purchased, making it a kind of collaborative effort between the cafe's staff and local artists. In summer the large garden, with children's play area, is a highlight, but in winter, the building itself is cosy, and the food never disappoints, especially for what is a distinctly non-Tallinn (and therefore low) level of expense. The staff are polite, the ambiance soothing – it's perfect stress relief.
Also good is Laada Bistroo (Laada 10a) – this is the only cafe of the three I visited that serves breakfast, including an Estonian twist on the English Breakfast baguette, and a tasty omelette. You are served in a canteen style, meaning if you're pushed for time, Laada Bistroo is likely to get you fed faster. It's not meant to be classy or fancy, but it will satisfy you, and one of those breakfast sandwiches will fill you up for a whole day.
Moving off from the main square, another great tourist attraction is the Aqva Spa Hotel (Parkali 13), where you can get your fair share of massages, pampering body treatments and dips in warm baths, and all for a price that is a fraction of some of the better-known places in Tallinn and Pärnu, if you get a good deal. Move on to the parkland behind the hotel, go up the steep flight of stairs (being careful of your footing) and you reach Rakvere Castle, the town's main landmark and a marvel of the Hanseatic age, gratifyingly still in wonderful condition after 670 years of turbulent history, defending the town from all-comers. Although the walls, on an overcast day, project a certain isolated bleakness, it's something any fan of stories like Wuthering Heights will appreciate.
In order to have a true appreciation of Estonian history, it's necessary not only to see the castle, but also to head to the Okaskroon, or Crown of Thorns, monument (uphill from Õie 12), built after the restoration of independence in order to commemorate the individuals and families from the area who were deported to Siberia after the Second World War. The monument is a minimalistic, silent reminder of a chapter of history everyone hopes not to repeat. A visit to this sobering sculpture will shed light on the many changes experienced in just a few short decades in Rakvere, and in Estonia.
TEXT STUART GARLICK, PHOTOS ANDREI CHERTKOV
To learn more about this and similar topics