Q & A with The Rude Grooves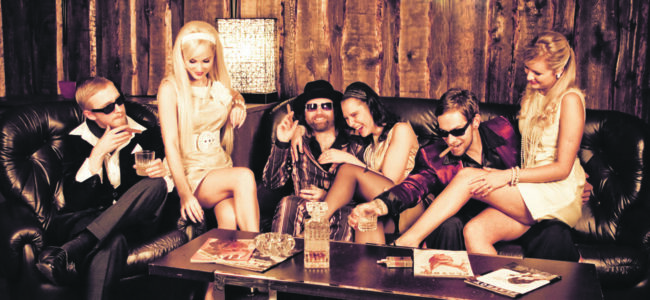 Q & A with The Rude Grooves
You're described online as a blues/rock trio. What else can you tell us about yourself and your fellow band members?
TRG is comprised of me, Mike (from Australia, half Estonian/ half Aussie). I've been playing bass for 24 years now, and work in software development. Our drummer, Aimar, has been playing for five years is Estonian and works in graphics and advertising. Kris (guitar / vocals) is also Estonian and is a certified cook but for the moment works in a skate/snowboard shop; he's been playing guitar for about ten years.
You have several covers of famous musicians online as well as original material. How much of your live set is original material and how much if any are cover songs?
Most of our material is covers, some fairly obscure, and we often rework or rearrange things. We've also got a few originals that are performed regularly, with more on the way.
Could you briefly describe your music style and list some of your influences?
Our style covers, broadly – blues / rock / psychedelic / funk, and is drawn from our shared influences (Hendrix, Cream, Led Zeppelin, Sabbath and many more). Each of us brings differing musical abilities and styles to the TRG table.
How would you describe the rock/blues live music scene in Tallinn and Estonia? Is there a certain city or town in Estonia that is best for live blues/rock?
The music scene in Tallinn is definitely growing right now. You can hear decent live music in many clubs/bars/pubs. The same goes for Tartu but on a slightly smaller scale. Turnouts at gigs always depend on the genre of the music being played. For instance, metal, heavy rock and also hip hop seem to be more popular among younger people than blues or jazz. What we have found is that people get into any kind of genre if the performance is engaging and honest. We know that most of the people in the audience probably aren't big blues fans in their spare time, but if we give a good performance and get their feet tapping, they have been converted, so to speak! Still, Estonians are more reserved as an audience than foreigners. We have done a few gigs where a third of the crowd is foreign and they are always the first ones to get into it.
Where are the best places in Tallinn to see live blues/rock?
Unfortunately there isn't a dedicated place for this style of music, but venues that regularly feature blues/rock include Von Krahl, Guitar Hunt, Clazz, Scotland Yard and Rockstars.
Where is your personal favourite venue to play and/or see live music in Estonia?
Our favourites are Von Krahl and Rock Cafe. Von Krahl is a really nice "intimate" venue in the Old Town with good acoustics and management supportive of live bands, while Rock Cafe is a great venue for seeing visiting or local bands.
How often do you play live gigs?
Depending on the time of year, two to four times a month, with more gigs during summer and in the festival season.
Do you play gigs anywhere else in the Baltics?
Not yet, but negotiations are in the works with venues in Latvia and Finland.
See The Rude Grooves live at Von Krahl on March 8 with Stóra Magnara, and at Guitar Hunt on March 16. Visit www.therudegrooves. com or Facebook (facebook.com/ therudegrooves).
TEXT: EERO SOOTS, PHOTOS: THE RUDE GROOVES
To learn more about this and similar topics