New Shops at Ülemiste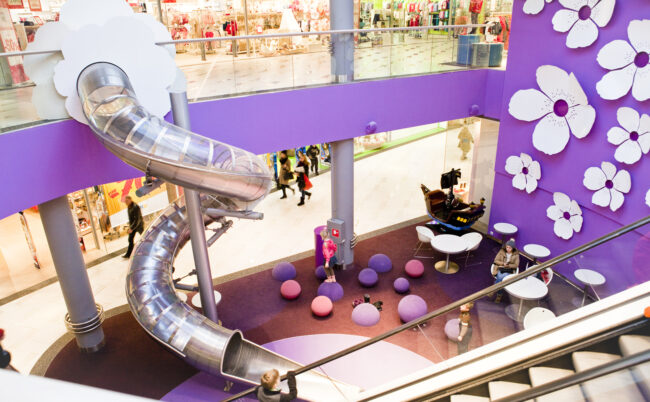 Estonia's largest shopping centre keeps getting better and better.
Ülemiste shopping centre opened back in November after extensive renovations and a significant addition. Ülemiste has become your one-stop for shopping, meeting friends, as well as a destination for the whole family. The addition brought an extra 22,000 m2 of shop space, totalling 60,000 m2 altogether. There are over 50 new shops and service points, a parking house with 400 extra spaces, themed rest areas (there is one that even includes a slide), and children's play areas. The centre can now boast having Estonia's largest selection of shoes, with 23 different shops, children's clothing and toys, and sports apparel. And, if that's not enough, the selection of places to eat has doubled.
The renovations at Ülemiste also brought with it certain brands to Estonia for the first time.
Sports Direct
Sports Direct is one of the UK's leading sports retailers, selling sport apparel and accessories. This is the first store in Estonia. Located on the second floor.
H&M Home
H&M has already been in Estonia for a few years now. Estonia's only H&M Home can be found at Ülemiste, as well as very large H&M clothing section too. H&M Home sells accessories for the kitchen, living room, bedroom, and bathroom. Located on the first floor.
The Pier
Don't have time to travel to find some eclectic pieces for your home, don't worry, The Pier has scoured the globe for unique accessories for the home, like textiles, accessories, furniture, and a wide selection of candles. Located on the first floor.
Zara
Zara has also been in Estonia for some time now, but their new location at Ülemiste is the largest in Estonia. Located on the first floor.
Nike Flagship store
Visit the Nike store at Ülemiste for a wide selection of training, running, and casual shoes and clothes. Located on the first floor.
Location
Ülemiste Keskus
TEXT KRISTINA LUPP, PHOTOS ANDREI CHERTKOV
To learn more about this and similar topics