New exhibition that explores being a man opens at EKKM
Text Mark Taylor
Photo EKKM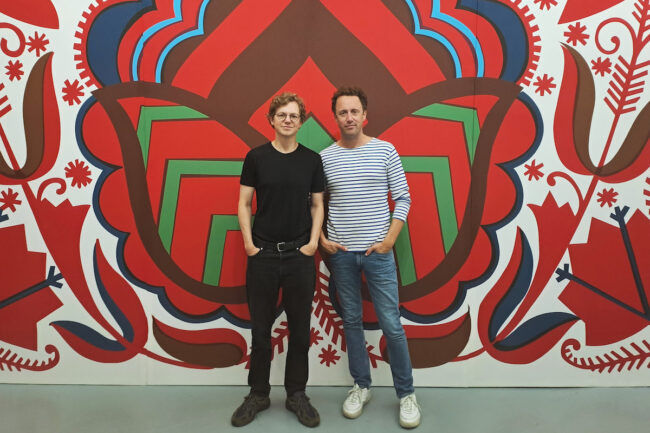 In the photo: Jaanus Samma, Krist Gruijthuijsen (EKKM)
On August 23, Jaanus Samma's solo exhibition "Iron Men" opened at the Contemporary Art Museum of Estonia (EKKM). At the exhibition, Samma presents new works that explore being a man in national narratives and the representation of power.
Jaanus Samma's work is characterised by an attempt to examine seemingly innocent material through the concept of sexuality and the public through national images. Using traditional techniques, the artist moves between different forms of communication that seem neutral at first glance, but on closer inspection contain gay and queer symbolism.
The aim of the exhibition, which is curated by Krist Gruijthuijsen, is to unite several male figures who have contributed to the formation of Estonian national pride on both a mythological and political level without judgement. By telling stories and using archival materials, Samma tries to reach forgotten and overlooked fragments of history in order to displace the patriarchal world order through them.
"Iron Men" consists of four parts. The first part focuses on a carpet that Kodutütred presented to President Konstantin Päts in 1938 on the occasion of the 20th anniversary of the Republic of Estonia. The second part examines Voldemar Päts's 1926 print "Eesti nahrariie ja ornament". The third part is dedicated to the statue of Apollo, of which several copies have been made in Estonia since the end of the 1880s. In the last part, the artist explores the national hero of Estonians, Kalevipoeg.
The exhibition "Iron Men" will remain open until October 15, 2023.
To learn more about this and similar topicsContemporary Art Museum of Estonia EKKM Estonian Men Jaanus Samma Kalevipoeg Konstantin Päts Voldemar Päts