More to discover and taste!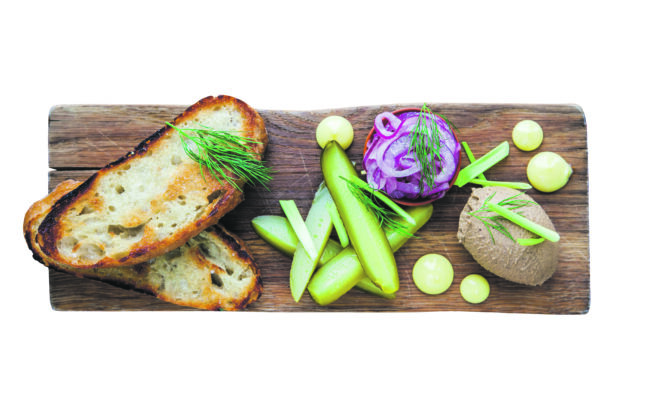 We couldn't fit every great place into this list, but you can create your own food tour of Estonia at www.toidutee.ee where you will find lots of information about local restaurants, farm shops, and cookery workshops throughout the country.
While travelling around Estonia you're bound to get hungry. We've put together a list of places worth a visit outside of major cities that offer something a little different, and of course, great food.
North Estonia
Baar Mimimo
Lääne 1b, Jõhvi
www.mimino.ee/et
A delightful Georgian Tavern in eastern Estonia, certainly worth a trip for excellent šašlõkk and hachapuri.
Taps
Klooga mnt 7a, Tallinn
www.facebook.com/tapsresto/
Just outside of Tallinn you can enjoy a great homemade burger, among other sandwiches served on a soft brioche bun. Sit out on the terrace in summer.
Ruhe
Neeme küla, Sadama tee 10, Jõelahtme
ruhe.ee
This seaside restaurant boasts stunning views from its large window and huge terrace, as well as a mainly fish menu. Accommodation available.
Saka Mõis
Kohtla vald, Ida-Virumaa
saka.ee
Fine dining in a beautifully-restored cliffside manor house in eastern Estonia. Accommodation available.
Põhjaka
Põhjaka mõis, Mäeküla, Paide vald
www.pohjaka.ee
Three chefs moved to the countryside to restore an old manor house this is the result – a cosy stop between Tallinn and Tartu for some hearty home cooked food.
Artur
Lääne Virumaa, Rõmeda küla, Kadrina vald
www.arturbaar.eu
Located along Peterburi mnt, this šašlõkk tavern is a favourite stop among locals due to its big portions. You can even buy marinated meat to take home. Open 24 hours, 7 days a week.
Grillers
Lai 2, Rakvere
www.grillers.ee
This gourmet burger joint offers any type of burger you could imagine, as well as a couple of filling breakfast sandwiches.
Torgo Talu
58°44'37.768 N 24°12'32.732 W
Kojastu, Vigala vald, Raplamaa
www.facebook.com/torgotalu
Torgo Talu Guesthouse offers meals inspired by simple, yet gourmet home cooking using many ingredients grown right on the farm. Sunday lunches take place every second Sunday in summer. Pre-booking only. Accommodation available.
Ööbiku
59º1'35"N 25º9'36"E
Kuimetsa küla, Kaiu vald, Raplamaa
www.oobiku.ee
A true farmhouse restaurant, located about an hour's drive from Tallinn, where chef Ants Uustalu prepares a five-course meal using local ingredients. Pre-booking only.
Pakri Parun
Majaka tee 43, Paldiski
www.pakri.eu
A cosy café located on the cliff by the lighthouse of the same name in Paldiski.
West Estonia & Islands
Lest ja Lammas
Kassari Puhkekeskus, Kassari küla, Käina vald, Hiiumaa
kassarikeskus.ee/grill_lest_ja_lammas
A modern restaurant serving locally-caught fish and lamb, as well as other grilled dishes on the island of Hiiumaa.
Ku-Kuu
Lossipark 1, Kuressaare
kuressaarekuursaal.ee
Located in the beautifully refurbished resort hall, enjoy local food inspired by French flavours. Accommodation available.
Ungru
Suursadam, Sääre, Hiiumaa
www.ungrumaja.ee
Beautifully presented dishes featuring fresh local island flavours in Hiiumaa.
Kihnu Küek
Pärnu maantee 14, Abja-Paluoja, Abja vald, Viljandi maakond
www.kihnukyek.ee
Enjoy local home-cooked food from the small island of Kihnu.
Dirhami Fish Café
Dirhami küla, Noarootsi vald, Läänemaa
www.dirhami.ee/rannakohvik/
freshly-caught fish is what's on the menu at this café. A beautiful spot for a summer afternoon lunch.
NamiNamaste
Simisti kula, Simisti, Saare maakond
www.naminamaste.com
If you're lucky you can get a spot at the table, but we recommend you stay the night, and take part in a cooking class as well.
South Estonia
Ööbikuoru Villa
Tiidu küla, Rõuge vald, Võrumaa
oruvilla.ee
Sit down at the table in a modern, yet elegantly-rustic dining room for some wonderful food in southern Estonia. Accommodation available.
Tammuri Talu
Mäha küla, Otepää vald, Valga
www.tammuri.ee
Tammuri Farm is about as far away as you can get from Tallinn in Southern Estonia and is a one man restaurant. Chef owner Erki Saar takes groups by booking only, preparing creative meals and offering wine to match. Accommodation available.
Taark tarõ köögikõnõ
Vastseliina-Meremäe-Kliima, Obinitsa, Võru
taarkatare.com
The Seto Community Centre offers authentic Seto cuisine in this seasonal eatery open from May to September.
Mulgi Tavern
Pärnu maantee 14, Abja-Paluoja, Abja vald, Viljandi maakond
www.facebook.com/mulgikorts
The Mulgi tavern is located in the heart of Abja-Paluoja, the capital of Mulgimaa where you can enjoy traditional Mulgi food.
Olustvere Bread Studio
Olustvere, Suure-Jaani vald, Viljandimaa
www.olustveremois.ee
Taste and buy fresh barley and rye bread at the Olustvere Bread Studio café.
Kala ja Sibula Restoran
Ranna 1, Suur Kolkja, Tartumaa
www.facebook.com/kalajasibula
The Kala ja Sibula (fish and onion) restaurant in Kolkja is where you can taste the traditional cuisine of the Russian "Old Believers".
Suur Muna
Haanja, Võrumaa
suurmuna.ee
This family restaurant is located at the bottom of Suur Muna Mägi or Big Egg Hill. Enjoy local foods and homemade baked goods.
Harmoonia
Tallinn 5, Viljandi
www.facebook.com/kohvikharmoonia
Enjoy an internationally-inspired menu at this café in Viljandi.
Fellin
Kauba 11, Viljandi
kohvikfellin.ee
Enjoy a light bite or a larger meal at this favourite Viljandi restaurant. On 2 June Fellin will be will be hosting Café Night (Kohvikuteöö) from 21.00-02.00 as part of the Viljandi Hanseatic Days. More information: https://www.facebook.com/events/1722618451363671/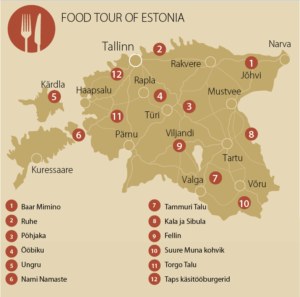 Click on the address to see the location.
TEXT KRISTINA LUPP, PHOTOS LAURI LAAN
To learn more about this and similar topics