Local Staple food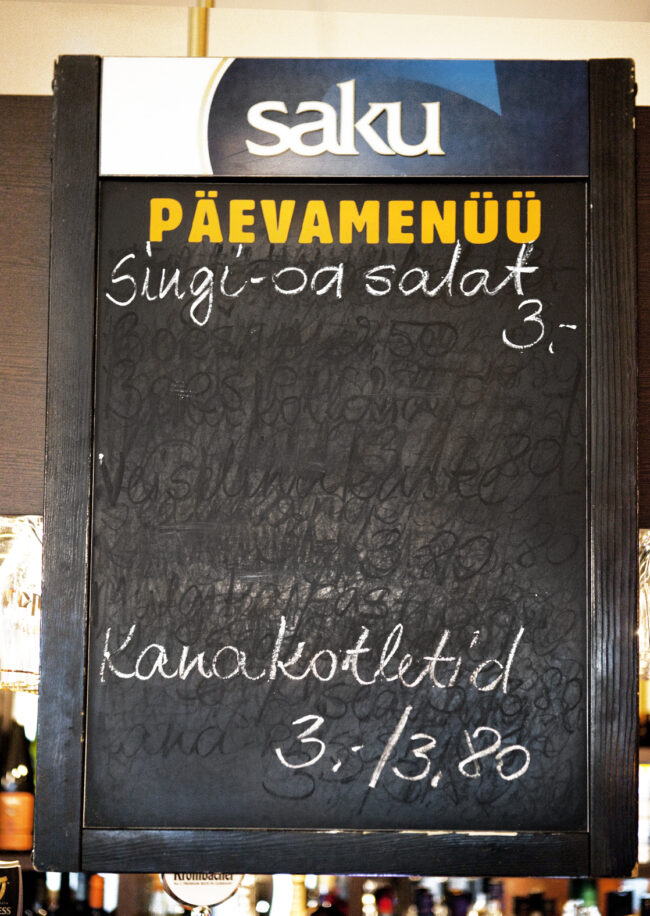 Many that have had late night munchies know Tommi Grill. The Tatari Street location is open until 7am. It is a popular place to visit after a night out.
Tommi offers lunch on weekdays. Service is fast and steady; you certainly don't have to wait more than a few minutes for your food.
A daily soup and salad cost €2. Lunch comes in two different sizes. The €3 portion is a regular size and the €3.80 portion is already quite large.
You order at the counter, where you can buy drinks as well. Bread and cutlery is available at a side table in the dining room. Food is brought to the table. If the daily specials don't tickle your fancy, then the regular menu offers many more options. There is even a children's menu, with a pork filet for €4.50.
After lunch, starting at 5pm, is Happy Hour at Tommi Grill, which lasts for three hours. You can then get two beers for the price of one.
Lunch places in Kalamaja:
Lendav Taldrik Resto. Telliskivi 60a Tallinn
Click on the address
Lunch places in the city centre and port areas:
Reval Kohvik -cafés: Weizenbergi 34 / Valge 1, Pärnu mnt 27, Narva mnt 1, Müürivahe 14.
St Patrick's pubs: Suur-Karja 8, Narva mnt 5, Vana-Posti 7, Pärnu mnt 20
Pub Woodstock. Tatari 6. Tallinn
Mauruse pubi. Estonia pst 8. Tallinn
Vana Villemi Pubi. Tartu mnt 50. Tallinn 
Tallink Express-hotelli Express Café. Supibuffee. Sadama 9. Tallinn
Kochi Aidad. Lootsi 10. Tallinn
Hell Hunt. Pikk 39. Tallinn Old Town
Bollywood. Pikk 31. Tallinn Old Town
Texas Honky Tonk & Cantina. Pikk 43. Tallinn Old Town
Click on the address
To learn more about this and similar topics