Lamprey – a treat for the unsuspecting
The best catches of lamprey can be found in the Narva river.
Text and photos Mikko Savikko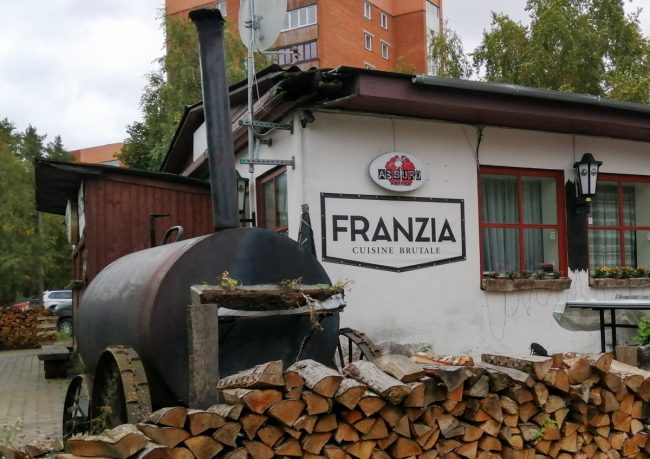 Lamprey are smoked in Franzia's yard.
Lamprey are not a very common delicacy on the dining table or on restaurant menus around the world. In Estonia, however, they are a familiar food both in restaurants and at home. Lamprey live in many rivers, but the largest catches are obtained from the Narva river.
Lamprey are caught with cone-shaped metal or plastic gear, known in Estonian as torbik, with an opening of no more than 30 centimetres. They are tied parallel to each other in dozens with the opening facing downstream. Each year, permission is given for a total of 15,000 torbik.
Preparing the lamprey to be eaten is not a very beautiful thing to look at, the snake-like shape of the lamprey can even frighten and disgust some. However, those who have had the chance to taste dishes made from it have usually gotten over their prejudices.
Traditionally, in Finland and Estonia, lampreys are cooked over an open fire. They are usually eaten in restaurants in the autumn with mustard sauce and, of course, schnapps. In Estonia, lampreys are canned in a marinating broth. Since the fat content of the fish is high, more than 20 per cent, the vinegar marinade is well suited.


During the lamprey festival held in Narva-Jõesuu last fall, chef Indrek Kõverik of the local restaurant Franzia published a cookbook in which he humorously presents 24 lamprey recipes. Kõverik is a modern food manufacturer who, among other things, personally picks and preserves the mushrooms served in his restaurant. In the book "Mu silmud", he shares recipes in Estonian, Finnish and French.
Of course, Lamprey are also on the menu of his restaurant, Franzia in Narva-Jõesuu. Kõverik calls his own cooking style "Cuisine Brutale". The flavours he brings to his readers and customers are worth experiencing. In the kitchen, this chef is more than a lamprey wizard.
Franzia, Koidu 10, Narva-Jõesuu.
To learn more about this and similar topicsDelicacy Franzia Franzia Narva-Jõesuu Lamprey Lamprey Festival Narva-Jõesuu Restaurant Narva River restaurant