KURESSAARE TURNS 450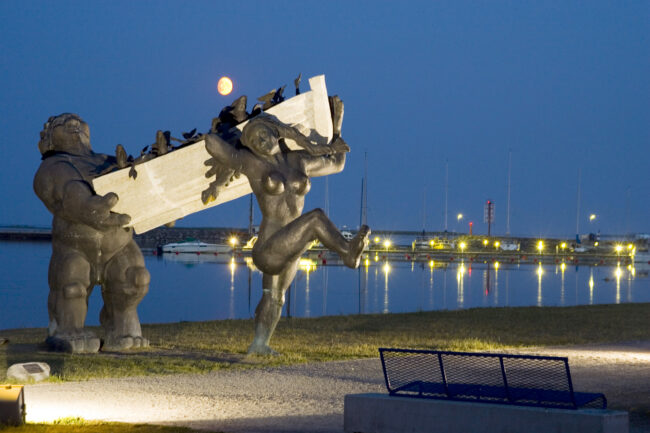 Kuressaare, saaremaa, island, estonia, festival, spa, abruka island
While Kuressaare's actual birthday was on May 8, the upcoming summer season will keep the festival spirit alive. Visitors can look forward to the annual Opera Days opera festival in July. The event's artistic director is Estonia's own opera legend Arne Mikk. The festival's program will include Lucia di Lammermoor, Rigoletto, and Madame Butterfly.
Kuressaare's most noteworthy sight is the Episcopal Castle and surrounding park grounds. The castle was built in the 14th century, making it even older than Kuressaare. In fact, the city's name was Arensburg until 1918. The German bishop sold the castle, and the island to Denmark in 1559, and four years later, Kuressaare became a city.
Throughout this city's long history, it has had many names. It was named Kuressaare from 1918-1952, and then once again in 1988. In the meantime, it was called Kingissepa, after the founder of the Estonian Communist Party, Viktor Kingissepa (1888-1922).
Kuressaare is a small and idyllic city, in which there are about 15,000 inhabitants. The city is the commercial centre of the island. Shops, restaurants, quirky cafés, spas, and hotels are many. The best time to visit is in summer, but book in advance, because Saaremaa and Kuressaare are popular vacation destinations for Estonians too. The ferry that connects to the mainland fills up quickly, so advance bookings are advised. Virtsu port is about 130 kilometres from Tallinn, and the distance between Kuivastu and Kuressaare is 75 kilometres. The ferry travels between Virtsu and Kuivastu frequently.
Almost 200 years of mud treatments
Therapeutic mud was discovered on the island of Saaremaa in 1820. Kuressaare's first mud baths were opened a few decades later and visitors flocked to the new spa. Spa traditions continue in Kuressaare, in the romantic boutique hotel Arensburg, the modern Grand Rose SPA, and many more.
Spa in Kuressaare: Arensburg Boutique Hotel & Spa, Lossi 15.
Johan SPA Hotel, Kauba 13.
Georg Ots SPA Hotell, Tori 2.
Grand Rose SPA, Tallinna 15.
Spa Hotell Meri, Pargi 16.
Spa Hotell Rüütli, Pargi 12.
Spa Hotell Saaremaa Valss, Kastani 20.
Travel tip ABRUKA ISLAND
. Located a few kilometres away from Kuressaare's city centre is the Roomassaare port. From here, visitors can visit Abruka Island (6 kilometres from the mainland). The island has beautiful untouched forests, and is home to about 40 inhabitants.
TEXT: JUKKA ARPONEN, PHOTO: TOOMAS TUUL, I. MICHELSON
To learn more about this and similar topics