KALAMAJA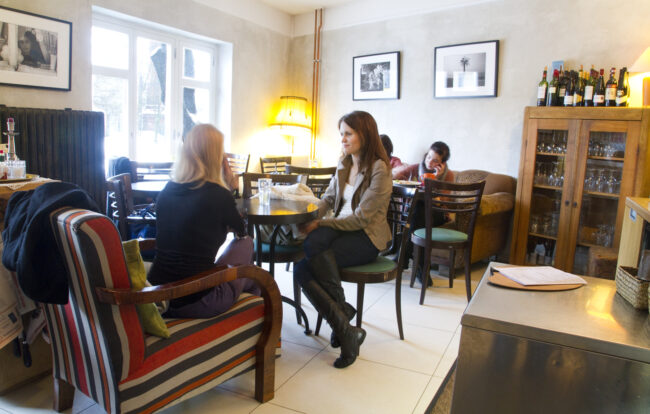 kalamaja, restaurants, tallinn, kolm sibulat, kukeke, pokaal, pudel, f-hoone, boheme, moon, klaus, soviet market
Kalamaja (Fish house) is a historic suburb filled with wooden houses and old factories. From the 14th century, Kalamaja has served as Tallinn's main fishing port and was home to fishermen and fishmongers. When the railroad connected Tallinn with St. Petersburg in 1870 many factories opened. The colourful wooden houses you still see today were built in the 1920s and 1930s to house the growing working population.
Kalamaja has seen a revival over the last few years as artists and other bohemian types moved in for the large spaces and cheap rent. Restaurants and cafés began to open, and the area continues to grow as the waterfront continues to be restored. Apart from the unique architecture and bohemian culture, Kalamaja is home to some of Tallinn's most interesting cafés and restaurants. And what better way to become acquainted with the city than to do as the locals do, eat.
Kolm Sibulat
If you don't speak Estonian, you'll understand the name of this restaurant as soon as you walk in. Onions, and shapes that resemble onions are placed all over this two-room restaurant.
The menu at Kolm Sibulat (Three Onions) is short, but covers all of the bases. Vegetarians will certainly be pleased with some great dishes, like roasted beetroot with pearl couscous, spicy hummus and yoghurt –a dish called Vegetarian Love.
The attraction of the place has to be the fresh house made noodles. The duck confit, chicken broth, poached egg, pickled vegetables and herb noodle bowl was a great balance of sweet and sour, and a filling dish on its own.
Telliskivi 2, Tallinn
Kukeke
The two-level restaurant is located in an old railway depot. The interior is simple, keeping with the industrial look of the building. Daily specials and desserts are written in chalk behind the bar.
What jumps out from the menu, is the list of juices and nonalcoholic cocktails. And you know that the dining scene in Tallinn is changing when you see 'lactosefree' written beside the mangostrawberry smoothie. Try the iced tea with lemon and mint. An extensive list of classic cocktails is also available, and the modest wine list features mostly European wines.
Telliskivi 57, Tallinn
Pokaal
The Telliskivi creative complex continues to grow with new restaurants and cafes opening along with little shops and other creative endeavours. One of the newer additions is Pokaal, a wine bar serving snacks and appetisers, and wine, of course! DJs can be heard spinning on the weekends. A great place to spend an evening!
Telliskivi 60a, Tallinn
Facebook: PokaalVeinibaar
Pudel
Also located in the Telliskivi complex, Pudel concentrates solely on bringing us some of the finest drinks from around the world. With a beer list that puts most bars to shame, every customer should be able to find at least one beer that will appeal to their tastes. Indeed, Punk IPA on tap is a welcome addition. It's minimalist décor of white walls and benches may not make for the cosiest atmosphere but this hasn't put off Tallinn's great and good who can be seen there most nights of the week.
Telliskivi 60A, Tallinn B1 Facebook: PudelBaar
F-Hoone
F-hoone was one of the first restaurants to open in Kalamaja. Located in the Telliskivi complex, this large restaurant built into an old factory often houses events and special evenings. In summer the courtyard is filled with tables, perfect for a nice sunny lunch outside. The menu offers simple dishes in large portions. Both vegetarians and meat eaters will be pleased. Prices are reasonable, almost half to those you find in the Old Town. Telliskivi 60A, Tallinn B1 Facebook: F-Hoone
Boheem
Boheem Café, like the name suggests is a café, but also a great restaurant. The menu offers soups, wraps, crepes, and salads. Portions certainly satisfy hunger without emptying your wallet. Their Caesar salad is one of the best in the city. And there were certainly no complaints about the crepes and soups either. In summer, tables are set up outside on the sidewalk. A lovely place to spend the afternoon.
Kopli 18, Tallinn
NEAR THE KALASADAM (FISH PORT)
Kohvik Moon
One of Tallinn's hidden gems, though not so hidden anymore, as it it frequently booked in the evenings. Great food, great prices, and a great service.
Võrgu 3, Tallinn
Estonian Design House
This shop houses displays, promotes, and sells the works of Estonian artists and designers including Monika Järg, Karin Kersa, Stella Soomlais and more. Food and design must go together because right next door is Café Klaus, another modern restaurant/café where you can enjoy good food, good music, good design, and most importantly, free WiFi.
Kalasadama 8, Tallinn
Baltijaam Market
Located behind the central train station.
Open daily 8.00-16.00
If you walk to Kalamaja from the Old Town you will inevitably pass by the Baltijaam Market. Here you will find just about anything, from home grown veggies to World War II memorabilia.
TEXT: KRISTINA LUPP, MARK BENN, PHOTOS: ANDREI CHERTKOV
To learn more about this and similar topics