Jaanus Samma examines the connection between national patterns and power in his new exhibition at the Estonian Museum of Applied Art and Design
Text Timo Huttunen
Photos Mari Volens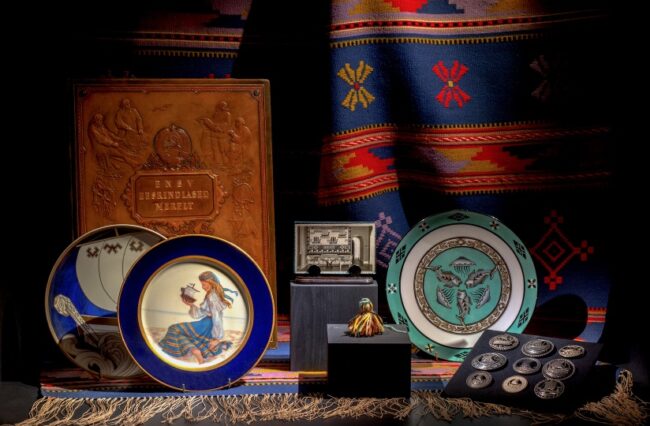 Starting from October 22, the artist Jaanus Samma's exhibition "Still Life on National Motifs" is on display at the Estonian Museum of Applied Art and Design ETDM in Tallinn, where he examines the use of national symbols, patterns and ornaments in the Estonian art industry and graphics from the 1930s to the 1950s.
"National symbols, myths and images have interested me for a long time. Especially how they have been used and who they have served," says Samma. The artist says that he is surprised by the similarities in the use of national subjects even in those years when the social system changed.

Jaanus Samma's approach as an artist to this theme is not subject to the rules followed by scientists and historians.
"The artist's vision in this difficult time is very valuable and enables us to make interesting discoveries and find unusual similarities," says ETDM director Kai Lobjakas.
Samma has gone through the collections of almost twenty Estonian museums and made selections for the exhibition both from them and his own collection. Based on this material, he has created twelve thematic works, which focus on themes that are important to him, from Kalevipoeg and Lydia Koidula's work to sports.


The exhibition features works by graphic designers from the 1930s to the 1950s. Normally, these years are not discussed in the same context. Samma says that as an artist, he can bypass the usual order of history and break existing rules.
Jaanus Samma himself has made three new works for the exhibition, which deal with the national conservative art canon and offer an opportunity to reevaluate it from a contemporary perspective.
In addition to research and interpretation of this and historical material, he has invited three contemporary Estonian artists to participate in the exhibition. The artists are Edith Karlson, Anna Mari Liivrand and Urmas Lüüs, who all interpret nationalism from their own perspective.
In addition, the exhibition includes works by the following artists: Adamson-Eric, Mari Adamson, Aino Alamaa, Jaan Jensen, Ede Kurrel, Helmi Käsukond, Paul Luhtein, Boris Lukats, Jutta Matvei, Lydia Mei, Leida Palu, Adele Reindorff, Maks Roosma, Evald Okas and Lydia Jõõts.
Jaanus Samma (1982) is an artist who works with several methods of contemporary art. Over the years, he has focused his work on gender and nationality issues.
The exhibition is open until January 22, 2023.
To learn more about this and similar topicsArt EDTM Estonian Museum of Applied Art and Design Exhibition Jaanus Samma Kalevipoeg Lydia Koidula National Symbols