Heavenly ice cream!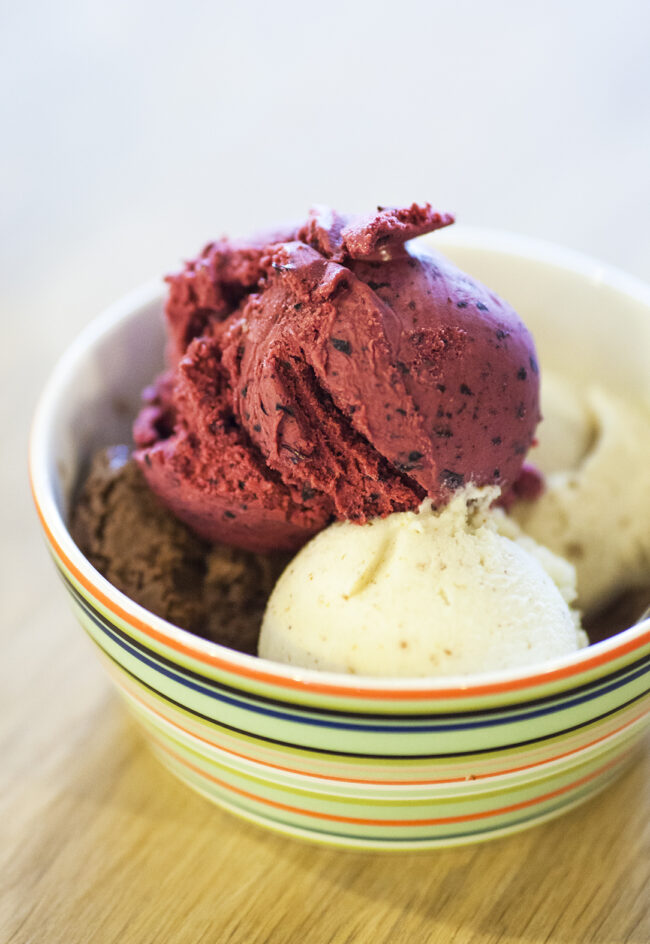 You have to admit, organic ice cream just tastes better. La Muu ice cream hit the Estonian market one and half years ago. The man behind the idea – Rasmus Rask. The ice cream factory is located in Kopli, and the product is made from local and natural ingredients.
The Baltic Guide went to taste some of their ice creams at La Muu's café in Viru Keskus. The café has been packed with ice cream lovers all summer long. "Demand is high", explained the café's manager Mona Mägi. 
What makes La Muu so unique?
"The ice cream is handmade from start to finish. For example, we peel the rhubarb ourselves and squeeze in some lemon juice". We learned how to use the gelato machine in Italy. "La Muu ice creams are 100% natural. We use as many local ingredients as possible. For example, the milk used comes from Pajumäe Farm", explained Mona.
There is an interesting detail on the label. "We have written on every package, who prepared the ice cream. Each ice cream has its own story".
We tried seven different types of ice cream. The first spoonful of mango sorbet was truly heavenly. The melt-in-your-mouth, fresh, and taste-lingering sorbet was unbelievably good — almost as good as the gelato you get in Italy. 
"The ice cream is not whipped. This is what makes the texture so great", added Mona.
Mona Mägi's favourite flavour is caramel-sea salt. We tried it too, and what an excellent combination of sweet and salty. This is a flavour not to miss! And the other flavours were pretty good too –kama, rhubarb, black currant, and chocolate. The lemon ice cream was unbelievably fresh, almost like it had been made directly from freshly squeezed lemon juice. The banana ice cream is made with coconut milk, which makes it a good choice for vegans.
You can buy seven different ice creams to take away, even though the café offers 12 different flavours. They will soon be introducing pistachio ice cream. La Muu is for sale in most Estonia's biggest cities, and can be found a health food stores too. 400g of ice cream costs €5.90. "You can look forward to new flavours at the new year. During winter, we will be making baked apple ice cream", said Mona, in secret.
In addition to ice cream, you can enjoy food, coffee, and Estonian craft beer at La Muu Café.
Location
La Muu Kohvik
Viru Keskus 3rd floor (inside of Rahva Raamat book store), Tallinn B2.
Text Mikko Virta, Photos Andrei Chertkov
To learn more about this and similar topics