Going French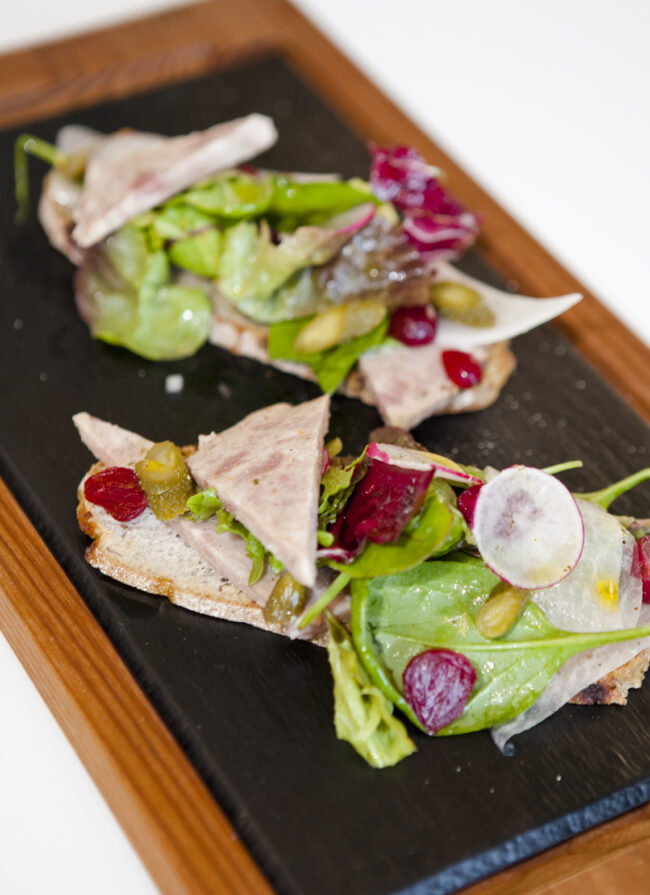 Frenchy fills the bellies of Tallinn's French food lovers.
Telliskivi, Tallinn's creative hotspot, is continuously growing and expanding with new shops and restaurants. Frenchy is one of the latest additions to the area.
Frenchy specialises in French cuisine, a cuisine that has been seriously lacking in Tallinn. It is open for both lunch and dinner, though unfortunately not for breakfast, yet. Enjoy a late morning coffee if you arrive for 11.00, which is when they open. At this time, they are also just pulling fresh croissants from the oven, which have come straight from France.
In fact, many of their products, including meat, comes straight from France. In December they were advertising fresh Fines de Claire oysters, a real treat here in Tallinn.
Upon my visit I decided to try some classic French dishes. To start, the rabbit terrine tartine (€6.50) was a pleasant combination of rabbit terrine on freshly toasted bread and served with salad. I tried the grilled sirloin to really put the menu to the test. Good beef is something difficult to find in Tallinn, but the grilled sirloin did not disappoint. It was served with maître d'hôtel butter and matchstick potatoes. This was truly gourmet comfort food for a cold winter's night. Ile flottant is the house dessert, poached meringue in crème anglaise.The menu is short, consisting of only a few dishes per course, but this is not a bad thing; for what they do, they do well. The drink list is also short but offers some speciality beers and some exclusive bottles of wine. Service is friendly, and gives you a great chance to practice your French.
Location
Frenchy
Telliskivi Loomelinnak Telliskivi 60a, Tallinn
TEXT KRISTINA LUPP, PHOTOS ANDREI CHERTKOV
To learn more about this and similar topics