Festive cruises between Tallinn and Finland
For shipping companies, Christmas time is the best season with Christmas and New Year cruises. On the Tallinn-Helsinki route, competition is also based on entertainment, services for children and, of course, prices.
Text The Baltic Guide working group
Photos Jenni Virta, Emmi Virtanen, Lauri Laan,
Petri Saraste, Tuukka Ervasti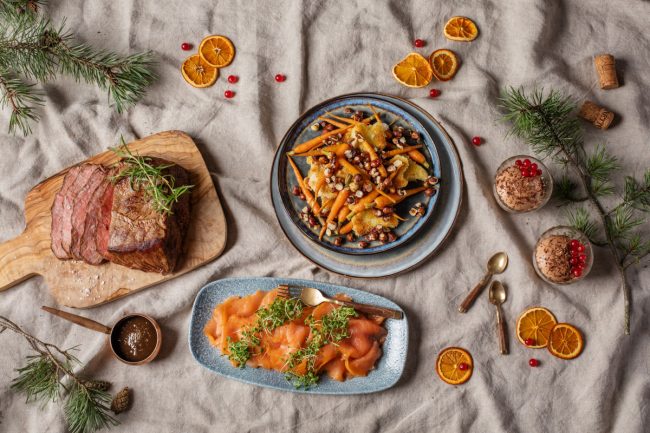 Eckerö Line offers both traditional delicacies and special dishes at Christmas time.
M/S Finlandia relies on strong traditions
Finnish ham and Christmas carols on offer
Eckerö Line's M/S Finlandia reserved two tons of Christmas ham for the Christmas buffet on the route between Tallinn and Helsinki from November 17th until January 3rd. The tradition of the Christmas buffet dates back almost three decades.
The Christmas hams, which are of Finnish origin, will be baked in the traditional way in the ship's combination oven. Normally, during one day, the 400-seat buffet restaurant will use 6–8 large hams.
The festive buffet is full of other delicacies, such as smoked turkey, port wine and herring, rosolli, swede, potato and carrot. "There are also treats on the buffet table for those who want to try different Christmas dishes, such as mustard-marinated bread and cheese salad, breaded cauliflower, honey-roasted hazelnuts or stewed kale."
"We try to take special diets into account as comprehensively as possible when planning the menu, and the buffet staff will guide customers on where to find the delicacies that suit their diet," says Eckerö Line's customer service manager Kaisa Kartano.

As a speciality, he mentions the vegan "glazier's herring", which is not fish, but eggplant. According to chef Tuomas Sillanpää, it tastes quite fishy.
The buffet culminates in the dessert table, which offers, for example, lemon cheesecake, cranberry syrup, sea buckthorn panna cotta and mulled pears with walnuts.
Drinks, such as beer and wine as well as other soft drinks, coffee and tea are included in the price of the buffet table, which is 35 euros when purchased in advance and 37 euros when purchased on board. For 6-17-year-olds, the prices are 18 and 19 euros. The youngest in the family can enjoy the buffet free of charge.
Purchasing and logistics manager Antti Kuittinen says that there is enough sparkle during the Christmas season. "Stocks are replenished every trip. There is only about 45 minutes in the ports," he describes. During the day, up to 20,000 hot dishes can be served. The amount corresponds to the cost of a large hotel.

Christmas carols and star artists
During Christmas, numerous performers and artists will perform on the ship. On weekends, there are jazz and swing bands as well as cover bands at Bar Nostur. There will also be daily performances at the pub on board.
Katja and Erko, who work as bartenders, say that there is plenty of buzz in the bars, especially on weekends and around Christmas time. Plenty of Christmas drinks are also on the menu.
70-year-old Wolfgang Kube from Nuremberg who was travelling by ship to Finland for the first time. "I will definitely come here again next year. I am so enamoured with people's friendliness and service", he praises.
How much does the trip cost?
The most affordable personal ticket costs 20 euros, and during the busiest time around 25 euros. A place in the lounge costs 25 euros Monday–Thursday and 30 euros Friday–Sunday. Depending on the size and capacity, bringing a car starts at 19 euros. M/S Finlandia has three daily departures between Tallinn and Helsinki.

Tallink will once again make its special cruise from Turku to Tallinn
Tallink's Baltic Princess will make a special Christmas cruise from Turku to Tallinn from December 23 to 25. The cruise, which lasts two nights, offers plenty of time to enjoy Christmas in Tallinn on December 24.
The Christmas cruise offers a comprehensive program, a Christmas buffet and a festive atmosphere. Santa will also be waiting for children on board.
"There has been a lot of hope for a cruise from Turku to Tallinn. With Baltic Princess's Christmas cruise, we want to respond specifically to our customer's wishes. Christmas on board is a wonderful and stress-free way to spend Christmas. On the ship you can enjoy ready-made Christmas buffets and a versatile program, such as Christmas Eve sea dances choreographed by Kyösti Mäkimattila," says Nina Honkaranta, Tallink Silja's Turku regional manager.
A special Christmas buffet will be available on the Turku to Tallinn cruise. There will be more than 50 different dishes, including Estonian blood sausages and sauerkraut, Finnish Christmas ham and a Swedish fish table, as well as a tasty festive drink for the whole family. This year, 40 per cent of the Christmas buffet's dishes are vegan.
"We always want to offer our passengers a break from everyday life, and especially at Christmas we want to offer them the opportunity to go directly to delicacies and experiences without Christmas preparations," commented Kalle Katajainen, commercial director of Tallink Silja.
On Megastar, Star and MyStar ships, the buffet meal costs 32 euros for adults when purchased on board and 29 euros per person if purchased in advance. Meals for children under 5 are completely free. The meal also includes all drinks. Wines and beers are served on day and evening routes. Mulled wine is also available during Christmas.
Ready-made Christmas packages at sea and on land
Tallink also offers travellers package tours. Individuals, families and groups can enjoy a longer trip first on Tallink's ship and then at the Tallink Spa & Conference spa hotel. In addition to the overnight stay, the travel package includes the hotel's delicious and festive five-course dinner. In the morning, there is still time to visit the sauna and bathe in the hotel's spa. The Christmas package is available throughout December.

Viking Line takes children and young people into account
Viking Line pays special attention to children and young people during the Christmas season. Ville Viking meets and entertains travelling children on the ship three times a day. The program includes candy bingo, Ville Viking tattoos and surprise games. The playground is located in the Red Rose cafe on the eighth deck.
There are also various games for teenagers, such as PS4 corner, Viking karaoke and trivia. The quiz will take place in the ship's pub. Magician Kim Wist will perform from December 26-30 and at Circus Trior from January 1-8.
The partners of Viking Line's Christmas buffet this year (17.11.–26.12.) are the Swedish national chef team and junior chef team, whose purpose is to offer culinary experiences to passengers of all ages. The buffet menu is partially designed by Sweden's award-winning national team of chefs.
The traditional Nordic Christmas table includes Finnish and Swedish Christmas ham, lye fish, potatoes, carrots and swede, sausage, meatballs, herring, fish and roe, seaweed caviar and much more.
Vegetarians have also been taken into account with a wide selection of food, which includes cold and warm vegan options. The Christmas buffet includes, among other things, mustard-braised kale, celeriac salad with walnuts, pickled venison, rosolli, portobello mushrooms and much more.
Special cruises and entertainment on board
Viking Line's entertainment offer covers different genres of music, from pop to rock and classical music. On the ships, well-known musicians and entertainers will perform. Special and entertainment departures between Helsinki and Tallinn on the Viking XPRS ship offer dancing and entertainment from morning to night.
Day cruises offer variety for those for whom the journey is more important than the destination. A trip with the Christmas buffet costs 50.30 euros. The normal price for a day cruise is 15–18 euros. You can get a mini cruise with cabins for 26–30 euros.
It is also possible to spend the night on the ship and spend the next day in Tallinn or Helsinki. In a class B cabin, the trip costs 45.80 euros.
To learn more about this and similar topicsChristmas Buffet Christmas Cruise Ekero Line Helsinki Tallink Tallinn Turku Viking Line