Experience in the sky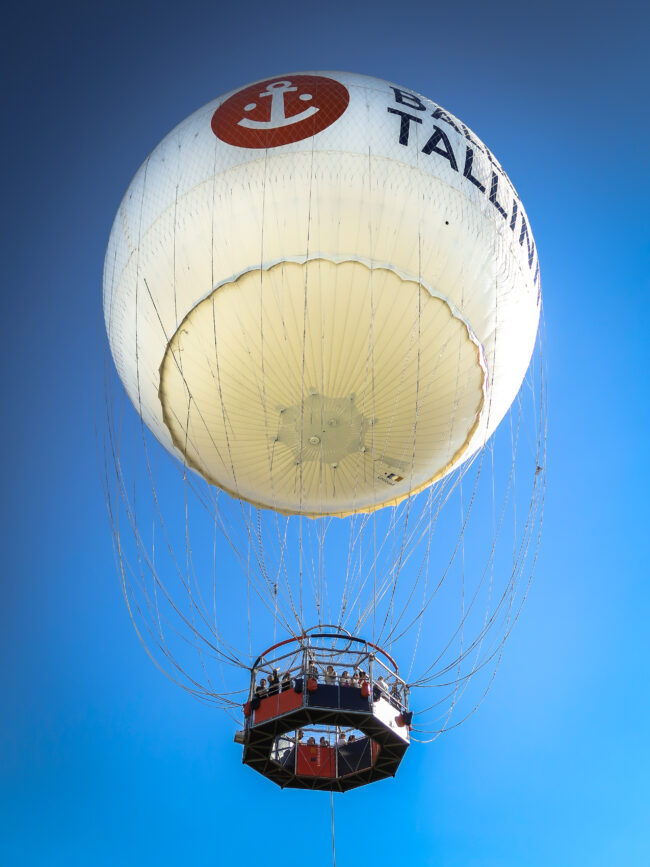 Enjoy an exquisite view of Tallinn from the harbour.
Take-off is located near the A Terminal. Balloon Tallinn's manager Sigre Luts recommends that as soon as you see the balloon in the air, make your way over there. The weather is unpredictable in autumn. "While the balloon goes up and comes down in the morning, sometimes the wind can be strong at midday and we won't be able to go up".
The balloon can fly with winds upto24knots.Balloon Tallinn's team will keep an eye out on the weather and run test flights throughout the day.
The flight lasts about 12 minutes, during which time the balloon rises to 120 metres. Thirty people can fit into the basket at one time, though with stronger winds, less people are allowed.
The view opens as you go up. You can see Tallinn's Old Town, as well as over the Gulf of Finland. The 124 metres high tower of Oleviste Church seems rather low from the balloon.
"If the weather is clear, you can even se eall the way to Helsinki".
Are there risks? "Yes, of course. The balloon has the same risks as with any flight", explained Sigre Luts.
The balloon is attached to the ground with a cable, which can hold up to 42 tonnes. This is controlled electronically from the ground. There are also staff in the basket.
The material of the balloon is bulletproof, meaning that it won't break easily. The material is the balloon's most expensive part", explained Sigre.The balloon is made in the UK at Lindstrand Technolgies Ltd factory. The company's creator is PeLindstrand from Sweden, who made a record flight with a hot air balloon over the Atlantic Ocean and earned fame for designing one of the lightest aircrafts. The balloon in Tallinn is not a hot air balloon, but is lifted from the ground with helium. The difference between a hot air balloon and a helium balloon is big. "A hot air balloon makes a journey from one point to another. The length and final destination of the flight are usually estimated, because the hot air balloon is very sensitive to wind. There is no fire in the helium balloon, as there is in the hot air balloon.
A flight with Balloon Tallinn is easy and even children are allowed. "The basket is even wheelchair accessible".
The balloon is the only one of its kind in Northern Europe, the closest balloon is in Krakov.
Location
Balloon Tallinn
Port of Tallinn A Terminal Open every day 8.00-20.00
TEXT MIKKO VIRTA, PHOTOS BALLOON TALLINN
To learn more about this and similar topics