EAT AND BE ENTERTAINED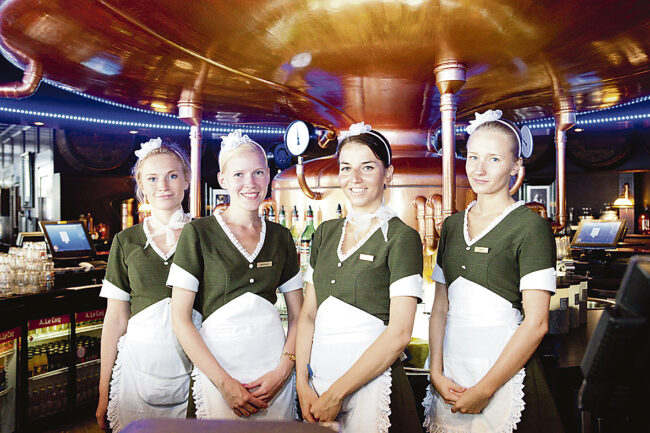 EAT AND BE ENTERTAINED
It is a bar and grill with live music on Friday and Saturday nights. Its reddish-orange walls and black light lit bar make you feel like you've returned to the 90s. What you see is what you get.
The same goes for the food. Guitar Hunt serves up all the pub favourites. Spicy chicken wings come in platters of 10, 20, or 30 pieces (4,90€ – 9,90€). Want a little bit of everything? The Guitar Hunt Beer Platter satisfies all you fried food cravings: cheese balls, onion rings, calamari, dumplings, garlic bread, and spicy quesadillas (14,90€).
* Kochi Ait is a brew pub and tavern close to Tallinn's port. This old stone storage warehouse has been beautifully converted into a cosy pub. While the modern brewery is visible, the room stills holds a jovial port tavern atmosphere.
Enjoy live music by Estonian performers on Friday and Saturday nights, while enjoying some above average pub food. The Mixed Platter (15€), perfect for sharing comes with slices of salted beef, pickles, a selection of Estonian artisan cheese, a large pretzel, and beetroot cream for spreading and dipping. There is no burger on the menu here, but the lamb patties (7€) are a good substitute. They come served with baked veggies and a pumpkin and yogurt cream. The braised moose was rich and soft, with an excellent side of seasonal vegetables and a Jerusalem artichoke and potato mash (14,90€).
* Clazz is located in the heart of Tallinn's Old Town and features live music or DJs every night of the week. In the summer, enjoy a cosy patio while watching the busy midnight sunlit streets. Whether inside or outside, the atmosphere is relaxed and loungy.
Clazz makes fantastic cocktails, but be sure to try their food. And best of all, the kitchen stays open late, the only catch, you might have to pay cover. If you are really hungry, try the burger (10,90), served with salad and potato gratin. For sharing, the baked camembert (12,80) is infused with rosemary and served with crunchy bread.
* Scotland Yard takes the Sherlock Holmes era and turns it into an elegant pub, complete with police memorabilia. Its dark wood panelled walls and bookshelves give a cosy library feel, along with the comfortable leather booths located over two levels. The toilets are designed like electric chairs.
The burger comes with all the fixings and chips on the side (7,50€), and good if you are hungry. For sharing try the beer wagon platter (10,55€) with chicken wings, cheese balls, onion rings, smoked ribs, and green onion and BBQ sauces for dipping. The šašlõkk or kebab plate was filling, yet refreshing with a tomato onion salad on the side and soft lavash bread.
* Step back in time to the 1930s at Chicago. One of the best and most distinguishing features of this bar is the massive round booths spotted throughout the room. The service is fast and friendly. Listen to live jazz music every night of the week.
The menu has a little bit of everything. Bruschetta (4,90€) to buffalo wings (5,70€). The large burger (12,90) came served with all the fixings, including cheddar cheese. Feeling really hungry? Try the monster T-Bone steak (25,50) with a red wine jus.
Location
Guitar Hunt
Pärnu mnt 19, Tallinn – Classic, no frills bar featuring live music on the weekends.
Kochi Ait
Lootsi 10, Tallinn – Tavern/Brew Pub with mostly Estonian bands performing on weekends.
Clazz
Vana turg 2, Tallinn – Swanky jazz club with live music or DJs every night.
Scotland Yard
Mere pst 6E, Tallinn – Scottish pub with police department theme and live music on weekends.
Chicago
Aia 3, Tallinn Old Town – 1930s theme bar with nightly jazz acts.
TEXT: KRISTINA LUPP, PHOTOS: ANDREI CHERTKOV, STINA KASE, TOOMAS TUUL
To learn more about this and similar topics