Döner kebab heaven 
Text Susanna Poikela
Photos Andrei Chertkov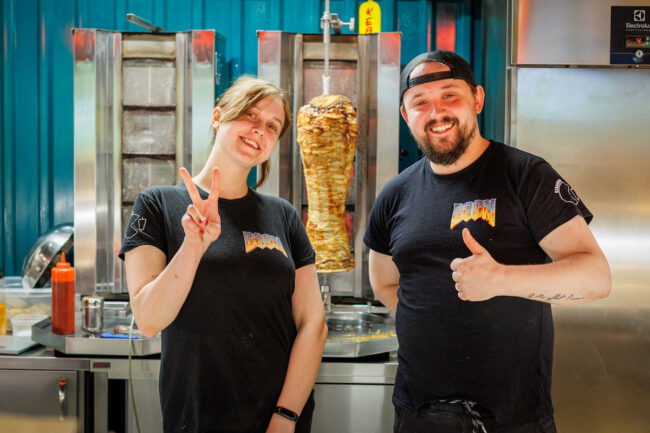 Kebaboom's staff prepare the juiciest döner kebabs in Tallinn.
Kebaboom specialises in genuine and real Berlin döner kebabs, which began to be made in the German capital back in the 1970s. Turkish immigrants combined traditional kebabs with local German ingredients and this is how the juicy Berlin döner was born.
The halal meat prepared on Kebaboom's skewers is ordered directly from Berlin. Halal means that the animal has been slaughtered according to Islamic tradition.
"You just can't get the same tasty kebab meat in Estonia yet," explains Mihhail Tkatž, manager of Kebaboom in Viru Keskus. "A month ago, a big conference was organised here in Viru Keskus and there were many participants from Muslim countries. In those days, we were extremely busy, because we were the only ones besides Samsa that offered halal meat".
From the kebab menu, you can choose a traditional döner, a döner wrap or a döner with french fries. The meat is usually chicken, but sometimes beef is also available. Alongside the kebab, for example, French fries and jalopenos dipped in a delicious sauce or a lighter feta salad are suitable. There are also hamburgers on the menu.

Kebaboom restaurants in Estonia:
Balti Jaama Turg, Kopli 1, Tallinn.

Solaris, Estonia puiestee 9, Tallinn.

Viru Keskus, Viru väljak 4-6, Tallinn.

Pärnamäe keskus, Pärnamäe tee 4a, Tallinn.

Lõunakeskus, Lääneringtee 39, Tartu.
To learn more about this and similar topicsBerlin Kebab Döner Kebab Halal Halal Tallinn Kebab Kebaboom Tallinn Tartu