Countdown to 2015!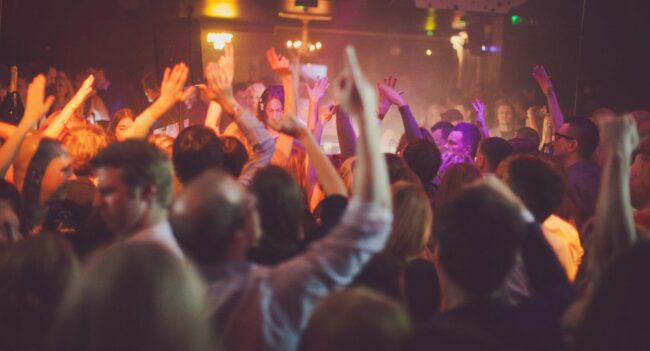 Vabank
t's New Year's Eve, you're in Tallinn, and you're looking for something to make your night the most memorable of the year. Allow us to take you through a clutch of places that will provide the party, so all you have to do is bring good spirits and have a great time. There are parties going on all over Tallinn, but the ones you want to be at are where you can enjoy yourself among people who are like you, and people you like. Usually in The Baltic Guide, we suggest a route for your night out. This being New Year's Eve, it's far more likely you will head to the best party and then stay there. Take a look at our best parties for people who love to party with the hot people, the luxury-lovers and the hipsters. One warning: as with any city, if you're going to eat out, book a table; most places will be full when it comes to the day itself.
The Hot People:
Butterfly Lounge
Vana-Viru 13/Aia 4, Tallinn Old Town
Thanks in part to the closure of some other excellent bars, but also due to good management, Butterfly Lounge has taken on some excellent staff and kept a good reputation for food and drinks that make you feel a million euros, on a mid-range budget. The great thing about Butterfly is the decor – the pastel blues and pinks lift the mood and make customers feel so much happier than they would in some of the dark, drab bars of elsewhere in the Old Town. The other great thing is that about 97% of the clientele are unbelievably gorgeous, making the place a feast for the eyes if you're a people-watcher. Male and female bar-staff get into the swing of things too, wearing pink shirts and seeming like the happiest bartenders in all of Estonia. There is usually live music from a major local music act, with excellent acoustics meaning it's easy to talk while the band plays on, but also to hear every word sung, if you're a music-lover.
The food is good, although not up there with the best Tallinn has to offer; pre-closure and reopening, Clazz (Vana Turg 2, Tallinn Old Town) offered the best main course at around €20, but this reviewer has not returned since its relaunch so cannot compare menus any longer. The beef tartar at Butterfly is a treat, melting on the tongue as the egg yolk intermingles with the meat. It is nonetheless with cocktails that Butterfly thrills. The extensive menu of global favourites and celebrity-endorsed tipples will help any New-Year reveller to feel in the mood for dancing.
Butterfly Lounge, although not by any means a "gay bar", is very gay-friendly, refreshingly so in Tallinn, a city that has often seemed behind-the-times when it comes to gay culture.
The Luxury-Lovers: Vabank
Vabank Klubi is the place to be if you want to be in with the in-crowd, and go where the in-crowd goes. Though it has a reputation among twentysomethings for being for the slightly older party animal, that's not really true any longer – you will find plenty of people from early twenties up enjoying themselves. Don't be surprised to be charged a big admission fee to get in, but when you are in, you will find very well-dressed beautiful people, in a more chilled club than neighbouring Prive (Harju 6, Tallinn Old Town), or the sweaty-youth Mecca that is Club Hollywood (Vana- Posti 8, Tallinn Old Town). The laid-back attitude is reflected by (expensive) seating areas where groups of around ten can recline on comfy sofas and share bottles of wine. For an extra few euros you can have access to the VIP area, accessible behind a sliding door. This is a luxury worth paying for if you come to Vabank; you will want a quiet place to dance or sit with your friends, away from the crowds of the main club. For the chosen few, there is also the Bankowners' cigar club downstairs, although you need a special card to get in there, and it's by invitation of the club's management only. Whether you think of yourself as a Justin Timberlake or a Jordan Belfort, you'll find a calm, sexy crowd and the biggest tunes in Vabank.
The Hipsters: Sinilind
Müürivahe 50, Tallinn Old Town
If you're not an aspirational socialclimber and you just want to have good, dressed-down fun with your friends, you're best-off going to Sinilind, a place we've mentioned before, but which comes into its own on New Year's Eve. This reporter went in there for an hour or so at 1am on New Year's Eve 2013, and did not emerge until 4.30am, so electrifying was the music being played, particularly in an old-school hip-hip set in one of the smaller rooms. There are few musical boundaries in Sinilind; you are unlikely to hear cheesy chart hits, but you will hear something that kicks your night up a notch. If all that dancing gets too much for you and your companions, you can retire to the cute little cafe area, where cakes are served throughout the opening hours. The dress code is "come as you are", although it always helps to wear a cool hat or a statement shirt or dress – just keep it playful, not overly fancy or designer.
Fireworks: Vabaduse Väljak (Freedom Square)
Tallinn Old Town
Wherever you spend New Year's Eve, make absolutely sure you step out into Vabaduse Väljak for the annual firework display and street party, where you are sure to meet great new friends, and where the cold of the Estonian winter seems, for a few stolen moments, not to matter any longer.
To learn more about this and similar topics