Coffee in the company of cats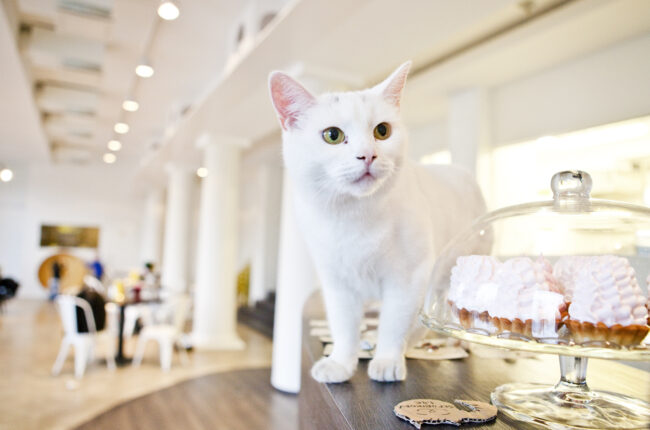 Nurri café is located close to Tallinn's Stockman on Tartu mantee on your way out to the airport.
The café offers light fare and coffee, of course. Of the savoury dishes, try the caesar salad with chicken or shrimp. Pancakes are also a good choice with either savoury or sweet fillings. Try the mushroom or salmon soup. Children also have the option of pasta.
There is a large selection of cakes. Among them you will find two popular Estonian cakes, or as they are known there: Kirju kass and Kass Artur.
The cats are of course the stars of the show. All of the cats come from the shelter.
Cats are everywhere in the café: on window sills, in the children's play area, on the bar… You can take photos of the cats and pet them. Don't worry, their litter boxes are located in another room.
The cats have their feeding time when food is brought out from the kitchen. The staff will open and close the doors for you so that the cats don't run out.
The café is open on work days from 12.00-19.30 and at weekends from 11.00-20.00. 

Location
Nurri Cat Café (kassikohvik),
Tartu mnt 24, Tallinn
www.nurri.ee 
Click on the address to see the location.
TEXT MIKKO SAVIKKO, PHOTO ANDREI CHERTKOV
To learn more about this and similar topics