Casual Russian Dining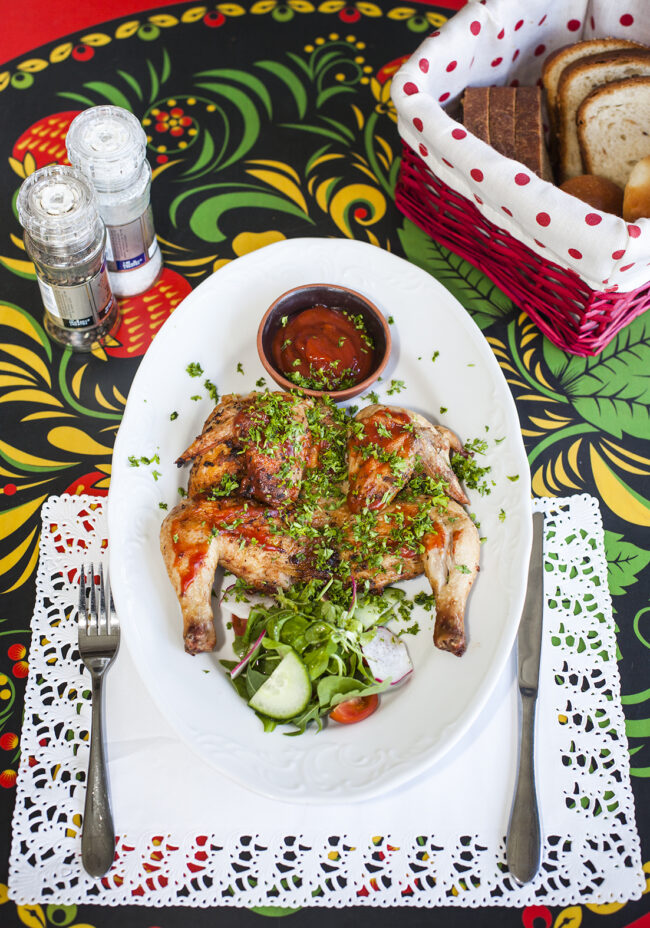 Chicken Tabaka
Everyone's favourite Russian restaurant now has a café.
Troika has been an institution in Tallinn for Russian cuisine. Those who have been, have certainly enjoyed the show that goes along with the pouring of the vodka, and the traditional Russian dancing. Troika's café, located just outside of Tallinn's Old Town is also worth a visit for a more casual dining experience. And while the weather stays warm, the large patio is a great palce to people watch.
Kohvik Troika has the same warm service you would expect from their Old Town location. The menu is more extensive than you would expect from a café. There is a great selection of soups and appetisers to start, including a salad bar option. Kohvik Troika is also good for dinner, which is when we visited. You can choose from a selection of dishes –from dumplings to pierogies, pancakes to classic Russian dishes. In other words, it's  good to come with a few friends so you can try a little bit of everything.
On our visit we started with the salted pickles that came served with sour cream and honey. Have a shot of vodka with these to whet the appetite. We tried the pancakes with caviar and sour cream, as well as the pancakes with mushroom sauce. The presentation was unexpected. The pancakes with mushroom sauce came packaged in little bundles and the pancakes with caviar were served as cones that presented each of the elements of the dish. Be sure to save room for the dumplings. Kohvik Troika has many different types of dumplings, including even bear meat dumplings. The dumplings come served in a broth with a selection of sauces on the side. Main dishes include the Emperor's Salmon, Chicken Kiev, and a Filet a la Stroganoff, among others. Prices are reasonable, with main dishes all costing below €13.
TEXTKRISTINALUPP,PHOTOSANDREICHERTKOV
To learn more about this and similar topics