At grandmother's House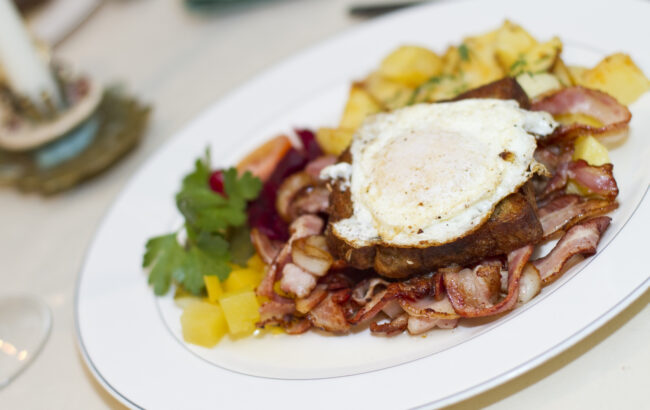 At grandmother's House
You will not miss the giant skillet hanging over the entranceway, and the old iron serving as a door handle.
Vanaema juures offers traditional Estonian fare, incorporating local ingredients. Dishes are served up just like granny used to serve them –generously portioned.
To start, try the salt cured salmon with lemon cream (5€). This dish comes served with bread, and is delicately seasoned with fresh lemon juice. It is an excellent light dish to try, especially if you don't want to miss out on a main. Alternately, for a true Estonian classic, you certainly can't pass up the Baltic herring with mustard, apple, and onion salad (4€). The sweetness of the apple salad balances out the full flavour of the herring.
As a second course, try the roast pork with sauerkraut (12.50€) or the roast salmon with cream sauce (13€). While these dishes will not 'wow' you palate, the smell of the dill garnish over the boiled potatoes accompanying the salmon or the aroma of the sauerkraut, brings you back to your Estonian grandmother's kitchen, and the comfort of knowing that you certainly won't be going home hungry.
If you're a vegetarian, don't worry, granny has even prepared mushroom and potato dumplings, served with sour cream and an assortment of salads and steamed vegetables (7€).
Still hungry? Try the pancakes, served with jam, honey or sour cream (4€) or the daily cake (3.50€). On our visit, it was a traditional fresh cheese cake, and it was certainly worth saving room for.
Location
Vanaema juures. Rataskaevu 10/12, Tallinn Old Town
TEXT: KRISTINA LUPP, PHOTOS: ANDREI CHERTKOV
To learn more about this and similar topics