A Medieval Shopping Trip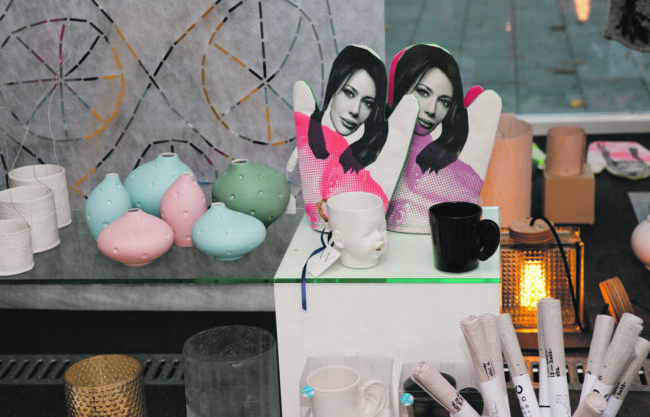 Here are our tips for a self-guided shopping tour of Tallinn's Old Town.
Tallinn lacks a central shopping street like many other European capitals. If you haven't explored Tallinn's Old Town yet, there are many boutiques and high end shops that await the fashionista around every corner. Shopping in Tallinn's Old Town let's you see many of the main sights. You'll also be pleased to know that many shops offer Tax Free shopping and others often offer special discounts.
The area between Pärnu mnt and Harju is where you will find high-end brands like Burberry, Emporio Armani, Jacadi, Marina Rinaldi, and others. If you are looking for something uniquely Estonian, Estonian designed, or simply shops you can't find anywhere else, we've compiled a list for you, to help you find just what you are looking for, or at least some pointers for a self-guided shopping tour of the Old Town.
Estonian Handicraft House – Authentic Estonian handicrafts by some of the top artisans in the country.
Pikk 22, Tallinn Old Town 
www.crafts.ee

Krambude – Medieval souvenirs from the folks at Olde Hansa.
Vana turg 1, Tallinn Old Town 
www.krambude.com

A-Galerii – Estonian-designed jewellry.
Hobusepea 2, Tallinn Old Town 
www.agalerii.ee

Nude – Designer clothes, with everything from Gucci to Ralph Lauren.
Pärnu mnt 10, Tallinn Old Town
Piolo – Handmade shoes from Tuscany.
Suur-karja 3, Tallinn Old Town
www.facebook.com/pioloshoes/

Beaumonde – High end designer jewellery from top European brands.
Väike-Karja 1, Tallinn Old Town
beaumonde.ee/et/

D'boiss – High quality men's Italian footwear.
Suur-Karja 20, Tallinn Old Town
www.dboiss.com

Ivo Nikkolo – Estonian designed women's business dress wear.
Suur-Karja 14, Tallinn Old Town
Accademia Boutique – Italian fashion for women.
Rataskaevu 4, Tallinn Old Town
www.italmoda.ee

VivianVau – Colourful leather shoes and bags imported mainly from Italy and Spain.
Rataskaevu 2, Tallinn Old Town
www.vivianvau.ee

Bastion – Elegant and quality Estonian designed clothing for women
Viru 12, Tallinn Old Town
bastion.andmorefashion.com

Bonbon Lingerie – Estonian designer undergarments.
Pärnu mnt 21, Tallinn Old Town
www.bonbonlingerie.com

KV Couture Kristina Viirpalu – Beautiful and unique Estonian designs for women.
Suur-Karja 2, Tallinn Old Town
www.kristinaviirpalu.com

Nu Nordik – Clothes and jewellery from young Estonian designers.
Vabaduse väljak 8, Tallinn Old Town
www.nunordik.ee

Edible souvenirs
There is nothing better than a food souvenir. Look for Kalev chocolates, kama (a mixture of roasted barley, rye, oat and pea flour eaten with buttermilk as a filling breakfast), dried fruit crisps, Olde Hansa roasted sweet almonds (you can smell these roasting outside of the restaurant), elk meat sausage, or black bread. You've probably already noticed that Estonians like their beer. A. Le Coq and Saku are the biggest brands, but local craft beer is what you should try. Visit Koht (Lai 8, Tallinn Old Town) Not a fan of beer? Look for Vana Tallinn liqueur, vodka (Saaremaa and Viru Valge are the top brands, but many small artisans producers continue to pop up with some great products), or the Soviet era Kännu Kukk (you'll recognise it from its odd-shaped colourful bottle). Põltsamaa produces great fruit wines, including Tõmmu (blackcurrant) and Kuldne (apple), which are two sweet wines, perfect for after dinner. (Hää Eesti Asi, Aia 1/Viru 23, Tallinn Old Town)

Click on the address to see the location.
TEXT KRISTINA LUPP, PHOTOS ANDREI CHERTKOV
To learn more about this and similar topics