A food lover's paradise – Estonian kitchenware stores
Text Mark Taylor
Photos Kulp, Gemoss, Apelsin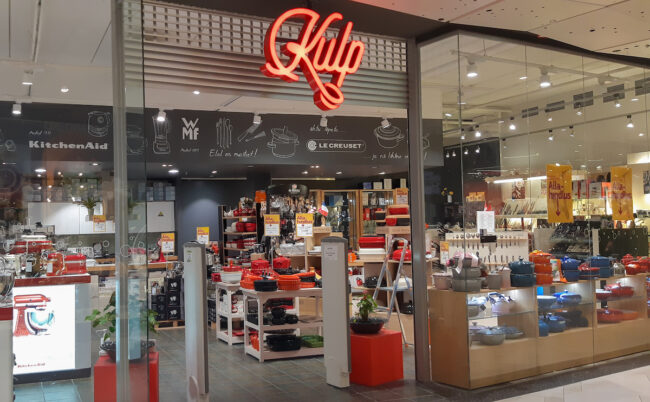 Kulp's store is located in Ülemiste Keskus.
Kulp
The story of Kulp began not long after independence in 1994. For owner Merike Reiner-Latõsheva, she recalls an early meeting with French manufacturer Le Creuset where they told "Grandmother's pan is the best pan in the world".
It is this ethos of long-lasting and high-quality products that carries on throughout the product selection on offer at Kulp. Kitchen Aid is one of the most recognisable and beautiful of the brands available at the store. The more than 100-year-old American kitchen appliance company's products not just being of high-quality, but also having a retro aesthetic that is pleasing to the eye. The selection of stand mixers, blenders, coffee machines, food processors, toasters and kettles also come in around 30 different colours.
Another stand-out range of products at Kulp are the cast iron pots from French brands Le Creuset and Staub. "They enamel the inside and the outside, this stops them from getting rusty. My mother even puts them directly onto the coals," shares Reiner-Latõsheva. The wide range of colours of these products at Kulp being unmatched at other retailers. "People like a lot of colours, there are even collectors," she adds. The products offered by these brands also include tajines, bread pans, pie tins, and more.
Other brands available at the store include hand-crafted Emile Henry ceramics, Sola cutlery sets, Bodum coffee and tea presses, de buyer pans, and exquisite Miyabi and Ryda Damascus knives. As well as their store in Ülemiste Keskus, it is also possible to shop at their online store – homedecor.eu – which is available in English.
Kulp, 1st floor Ülemiste Keskus, Suur-Sõjamäe 4, Tallinn.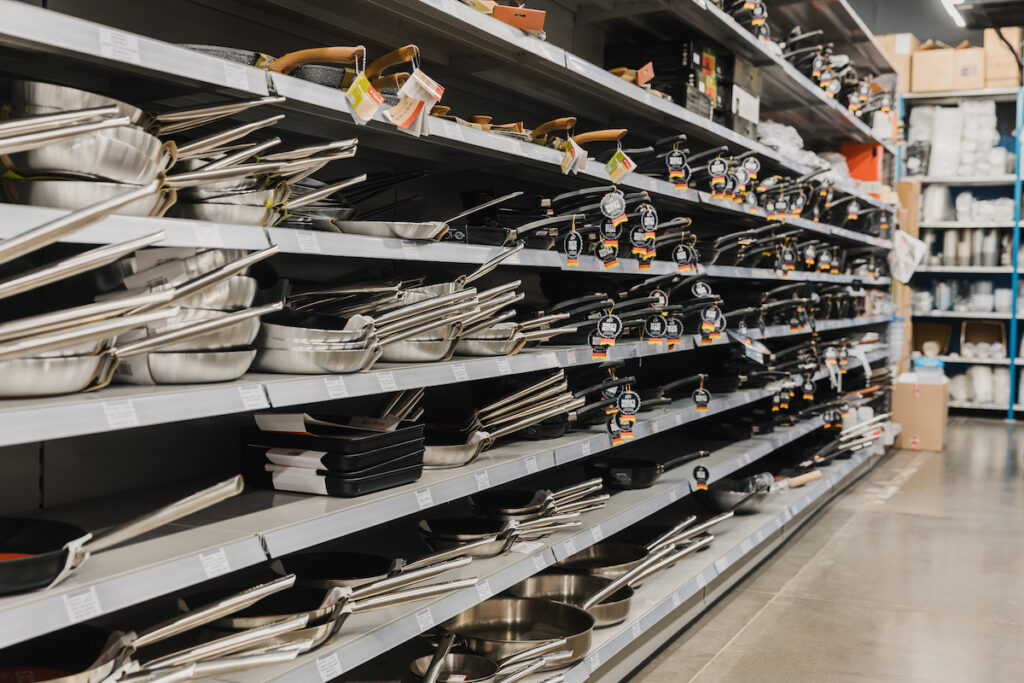 Gemoss
Are the biggest supplier of kitchen equipment to restaurants and hotels in the Baltic states, but they are also open to regular people like you and I. "This is a rare option where home chefs and cooking enthusiasts can buy professional products," explained Viktoria Rozental, a member of the board at Gemoss.
Gemoss not only stocks kitchen products. "We have three categories of products, non-food (dishes, utensils, technics), beverages, and foods," shares Rozental.
The store which is close to Sikupilli Keskus in Tallinn is also the largest of its kind in Estonia. However, this is just the tip of the iceberg. "What is on display is just a selection of the most popular products, there is much more we can order directly from the producer" she added. The full range of more than 20,000 products is available on the Gemoss.ee website.
The brands on offer include Churchill and Rak Rak porcelain, APS kitchen accessories, Cristalleria Italiana and Libbey glasses, Hendi, Robot Coupe, and Hamilton Beach kitchen appliances, Ballarini pans, Silikomart molds, and Lava cast iron pots. However, where Gemoss excels is in its wide selection of utensils. "We are the number one for kitchen utensils, nobody else has such a big selection." Rozental continues.
In addition, they are the exclusive supplier of Monin in Estonia with a selection of over 100 of their syrups, fruit purees and sauces. "All the barmen come here," said Rozental enthusiastically. That is not all, Gemoss also regularly host masterclasses and events where you can learn about their various products and how to get the very best from them.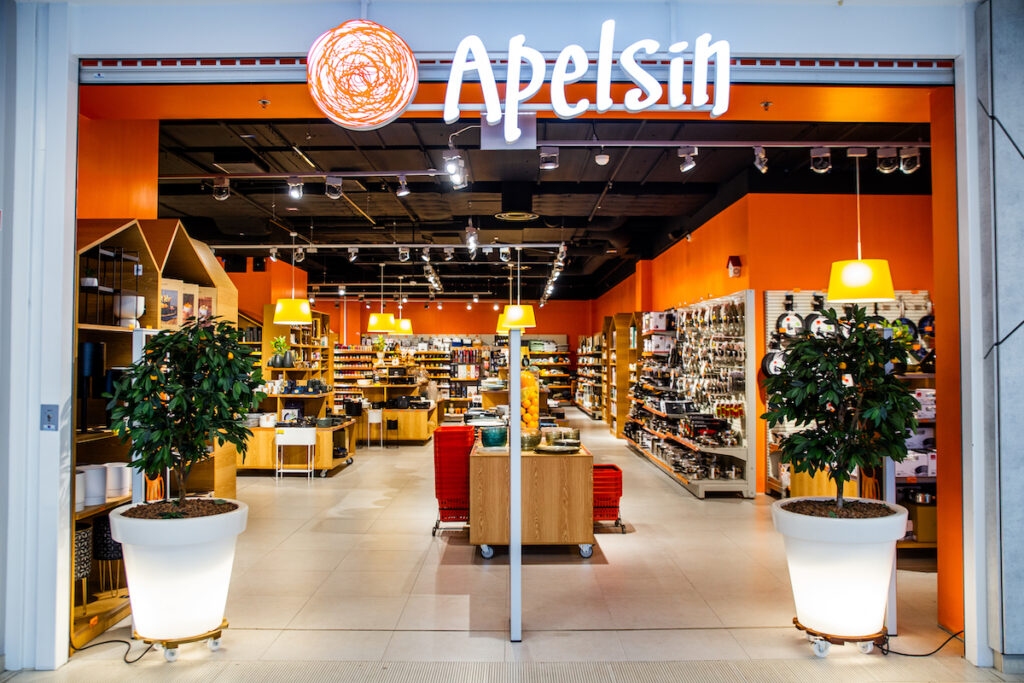 Apelsin
The first Apelsin store, which translates to "orange" in English, opened 15 years ago in the Vaala shopping center in Rakvere. The store was a success, allowing them to gradually expand their selection and begin to buy products directly from manufacturers.
Today, Apelsin has a total of 6 stores in Estonia, 3 of which are in Tallinn (Ülemiste, Kristiine, and Rocca al Mare), the last being their flagship store with the biggest selection of products. Apelsin also still has its original Rakvere location, as well as recently opened stores in both Tartu and Pärnu.
At all of the stores, as well as at their online store you will find a wide range of kitchen equipment. "At Apelsin, you can find pots, pans, baking dishes, chef knives, dishes, cutlery, and much more from various manufacturers. Additionally, we have everything to beautifully set the table and furnish your home with coziness," explained Tanel Hagel the owner of Apelsin.
Some of the well-known brands available at their stores are Maku, Aida, Heirol, JJA, Muurla, Samura, and Ibili. The latter only being available at Apelsin. "Ibili is a Spanish company founded in 1942, offering a range of over 2500 kitchen utensils. Apelsin is the official distributor of Ibili products in Estonia," added Hagel.
On what sets Apelsin apart Hagel concluded, "It can be said that we have the largest selection of kitchen tools. We sell a wide range of specialised accessories for baking and cooking, including specific tools for various culinary tasks."
Apelsin, Rocca al Mare, Paldiski mnt 102, Tallinn.
To learn more about this and similar topicsApelsin Food Gemoss Kitchen Kitchen Equipment Kulp Utensils