A Christmas Party in Musketeer Style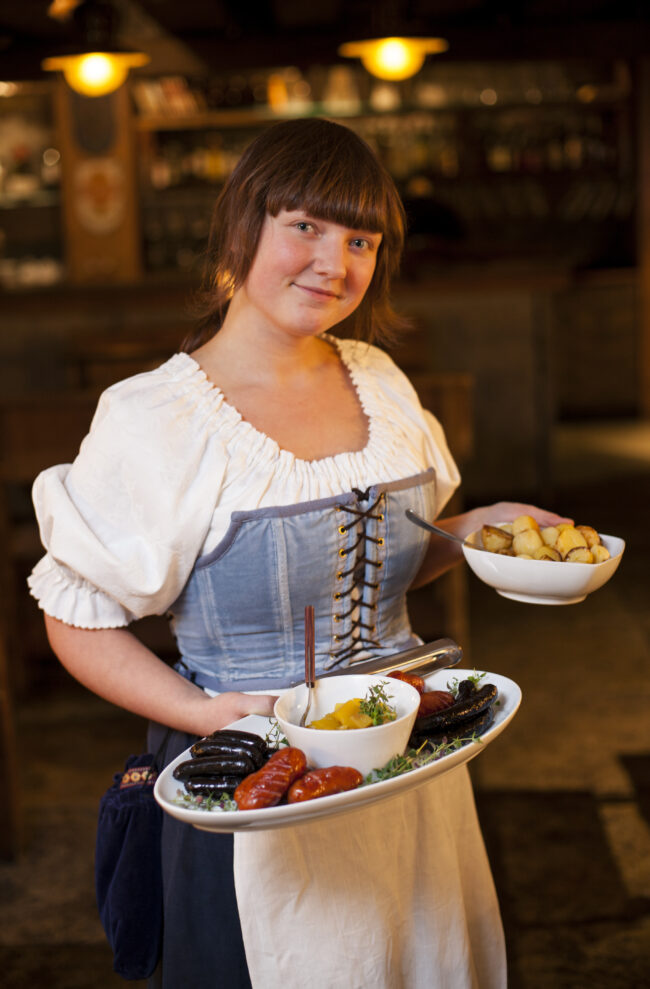 The spirits of the Three Musketeers are alive in Le Chateau. Athos, Porthos, and Aramis have had Christmas menus named after them.
The menus are offered to a minimum of six people, but the restaurant can hold up to 120-130 people. There are even smaller private rooms for a more intimate dinner. The three Christmas menus include appetisers, two-four main courses, dessert, coffee or tea, and water. The price per person is €30-39.
The food is served on platters, so every person can take as much or as little as they want.
The salted red salmon is the perfect colour for Christmas and is served with horseradish sauce. The Christmas ham is served with a spicy jam and the Waldorf salad comes with orange chicken. Garlicky and honey marinated cucumbers can't go without being mentioned either.
The selection of Christmas sausages are served with house made clove flavoured pumpkin salad and the salmon is stuffed with nuts and wrapped in puff pastry, served with a dill sauce. The smoky sauerkraut is an original side dish.
The most expensive dinner includes two desserts, whereas the others only included one. A spicy Christmas cake is served with a white chocolate sauce and the apple blueberry pudding is hidden under a lemon cloud.
The candlelit cellar of Le Chateau brings warmth and comfort to those dark winter nights. Enjoying a good meal with great company will certainly make the long winter nights pass quickly.
Location
Le Chateau, Lai 19, Tallinn Old Town
TEXT MIKKO SAVIKKO, PHOTOS ANDREI CHERTKOV
To learn more about this and similar topics