Try something local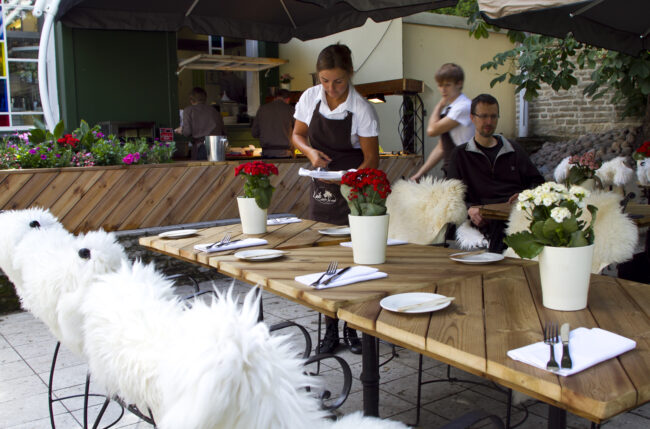 Where to taste Estonian cuisine in Tallinn.
The capital city is filled with all kinds of restaurants, offering many different kinds of food. Sometimes, however, you want to get a taste of local cuisine. Here's a list of a few places to taste some Estonian-style fare, both modern and traditional.
Farm
restaurant.farm
Müürivahe 27B, Tallinn Old Town
Farm brings modern Estonian cuisine to Tallinn. The restaurant's interior is rustically elegant and the glass-enclosed open kitchen is the centre of attention in the middle of the room. It's seen great success since its opening, with its head chef competing for Estonia at the Bocuse d'Or 2017 cooking competition. A great place to try some traditional Estonian flavours reinvented. Through the back, or around the corner on Viru Street, you will also find their bakery, Rukis (Viru 11, Tallinn Old Town h3).
Leib
www.leibresto.ee
Uus 31, Tallinn Old Town
Leib Resto ja Aed is the dream of sommelier Kristjan Peäske and chef Janno Lepik, two friends-turned restaurateurs. Their love for good food and good wine can be seen in the restaurant's seasonal menus, and the ever-changing wine list. All of Leib's raw ingredients come from local farms and producers, the majority of which are organic too.
Mekk
www.tallinnhotels.ee/mekk
Suur-Karja 17/19, Tallinn Old Town
MEKK stands for Moodne Eesti Köögi Kunst, or modern Estonian cuisine in English, and this is an apt description of MEKK's food. The flavours of traditional Estonian food is combined with modern cooking techniques to produce wonderfully flavourful and colourful dishes.
Kuldse Notsu Kõrts
www.hotelstpetersbourg.com/restaurant/golden-piglet-inn
Dunkri 8, Tallinn Old Town
This is the place to come for hearty, traditional Estonian food. Think sauerkraut, mountains of boiled potatoes, large portions of pork, you get the idea. We quite liked the sausage feast.
Liisu Juures
www.liisujuures.ee
Raekoja plats 13, Tallinn Old Town
It doesn't get more central than a meal at Liisu Juures in the Town Hall Square. Located in a warm and inviting cellar in Tallinn's Old Town, this is the place to come for good food, and good Estonian hospitality. Here you'll get a good taste of traditional dishes, like pork roast and herring. Liisu Juures also has a good selection of Estonian beers.
Vanaema Juures
www.vonkrahl.ee/vanaemajuures/
Rataskaevu 10/12, Tallinn Old Town
Located in the heart of Tallinn's Old Town, this restaurant lives up to its name: At grandmother's. Vanaema Juures offers traditional Estonian fare, incorporating local ingredients. Dishes are served up just like granny used to plate them – generously portioned. Vegetarians will find plenty to choose from as well.
Click on the address to see the location.
TEXT KRISTINA LUPP, PHOTOS ANDREI CHERTKOV
To learn more about this and similar topicsFarm Kuldse Notsu Kõrts Leib Liisu Juures local food Mekk restaurants Tallinn Vanaema Juures