Tickets for Tallinn Fashion Week go on sale
Text Mark Taylor
Photo Henri-Kristian Kirsip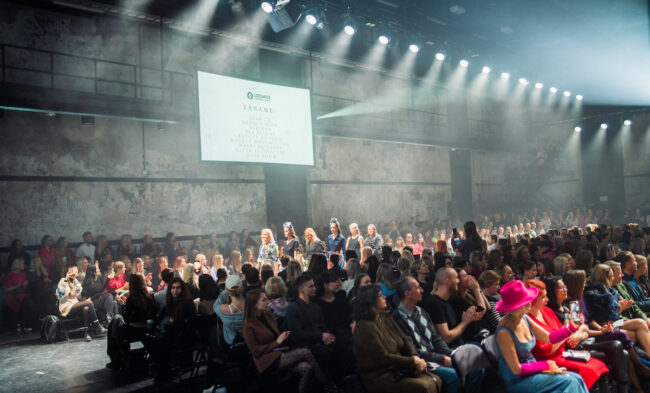 Tickets for this year's Tallinn Fashion Week, which will take from October 17 to 20, have gone on sale at Fienta. The autumn event will begin with the hotly anticipated Golden and Silver Needle Awards Gala evening, followed by three fashion-filled days.
On Tuesday, October 17, at the Golden Needle gala, the most sought-after prize in Estonian fashion design, will be awarded to the most outstanding fashion designer of the last five years, and the Silver Needle will be awarded to a designer who has gained attention in the past year.
The nominees for this year's prestigious Golden Needle are Liisi Eesmaa, Karolin Kuusik and Ketlin Bachmann. The nominees for the Silver Needle are Johanna Parv, Mairo Seire and Julia Maria Künnap.
In addition to the grand awards ceremony, the 23rd fashion week will also feature fresh fashion creations by many beloved Estonian designers. Among others, Diana Arno, who received the Golden Needle award last year, Katrin Kuldma, Kirill Safonov, Iris Janvier, Riina Põldroos, Aldo Järvsoo, Marilin Sikkal, and Oksana Tandit will present new collections at Tallinn Fashion Week.
Visitors will also see designers who are appearing at Tallinn Fashion Week for the first time. Including the knitwear brand Ärni Blum and the beloved Latvian fashion designer Natalija Jansone.
For the first time, a designer pop-up will take place as part of the fashion week, where you can be among the first to purchase the latest creations of fashion designers directly at Kultuurikatel.
Tickets for the festival are now available at Fienta.
To learn more about this and similar topicsDiana Arno Estonian Designers Estonian Fashion Fashion Golden Needle Kultuurikatel Tallinn Tallinn Fashion Week