Three worthy trees compete for the title of "Estonian Tree of the Year"
Text Mark Taylor
Photos Reigo Teervalt, Loodushoiu Fond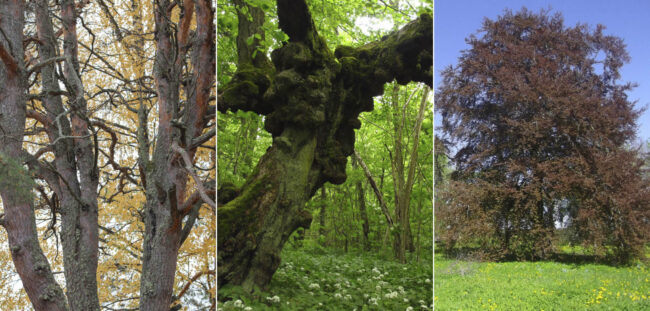 Voting has opened for the "Estonian Tree of the Year" competition. This year three trees are competing for the coveted title. They are the Verhuulitsa pine which is associated with Seto funeral customs, the Lippmaa linden, a witness to the richness of species on Abruka island, and the Reigi red beech with a great cultural history in Hiiumaa. The winner will represent Estonia at the European Tree of the Year 2023 competition.
The aim of the European Tree of the Year competition is to highlight trees that play an important role as a carrier of cultural heritage and communities. More than the size, age or beauty of the selected trees, the focus is on the emotional connection that binds people to that tree.
This year's shortlist of the three trees competing for the title of Estonian Tree of the Year are:

The Verhuulitsa pine is a sacred tree to the Setos of south-east Estonia. The 350-year-old pine, which was originally four trees that have interwoven into one over the years, plays a role in funeral processions from the village to the church.

The Lipppamaa linden grows on Abruka island. This mossy and peculiar crown-shaped tree has borne witness to the nature conservation and research that started on the unique broadleaf forests of Abruka a century ago by respected Estonian botanist Teodor Lippmaa.

The Reigi red beech grows in the garden of the Reigi church rectory in Hiiumaa. It was planted in 1903 by the pastor of the Reigi Church, R.G. von Hirschhausen on the occasion of the birth of his son. The red colour of its leaves makes the beech special. Its most notable reference is in Finnish writer Aino Kallas's novel "Reigi teacher".
You can vote for your favourite tree until November 9 on the Maaleht website here. The tree with the most votes will represent Estonia in the European Tree of the competition.
Estonia is participating in the European Tree of the Year competition for the sixth time. In 2015, an oak tree growing in the middle of Orissaare's football pitch won the first competition.
Estonia's participation in the selection of the European Tree of the Year is organised by the Loodushoiu Fond. The purpose of the fund is to promote voluntary and private nature conservation in Estonia and to value our remarkable heritage and native trees.
To learn more about this and similar topicsAbruka Aino Kallas Estonian Tree of the Year European Tree of the Year Loodushoiu Fond Reigi Seto Tree of the Year