The rulers of the sea have arrived at Lennusadam
Text Susanna Poikela
Photos Aron Urb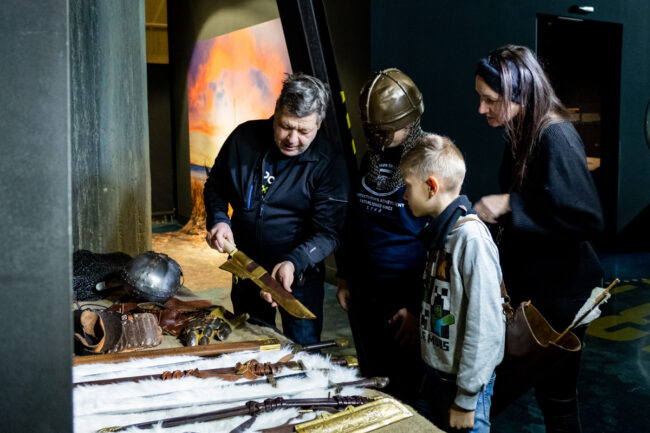 At the Viking exhibition, you can try the weapons and costumes of the time.
Two fascinating exhibitions are on display at the Seaplane Harbour Museum (Lennusadam), both of which are connected by the sea and its riches. One tells about the first Vikings of the Baltic Sea region, and the other about Venice, which ruled the Adriatic Sea from the heart of the Middle Ages until the Enlightenment.
The "Vikings before the Vikings" exhibition at Lennusadam tells about the ship found in Salmi in Saaremaa. The discoveries on board the Viking vessel are unique, because no earlier ship contain the bodies of as many warriors as the example from Salme. The grave finds have also proven that the Viking Age began earlier than previously thought, already at the beginning of the 8th century.
In the exhibition, you can familiarise yourself with 150 objects found on the ship, for example, parts of swords with clever tribal patterns and goods carried by the warriors. You can also try how it feels to row along the Salme river on the oars of a Viking ship or explore the ship grave of a Viking warrior.
There is no shortage of gold and glitter in the "Venezia – Queen of the Seas" exhibition. The exhibition features art and artefacts from the times of the prosperous Venetian maritime empire, when the republic ruled the Adriatic Sea and was an important trading city in the Mediterranean. The exhibition introduces the republic's administrative system, its army, the Venetian upper class as well as the common people and their customs.
Seaplane Harbor (Lennusadam), Vesilennuki tee 6, Tallinn.


To learn more about this and similar topicsExhibition Lennusadam Museum Salme Seaplane Harbour Venice VIKINGS