THE PARTY OUTSIDE OF THE OLD TOWN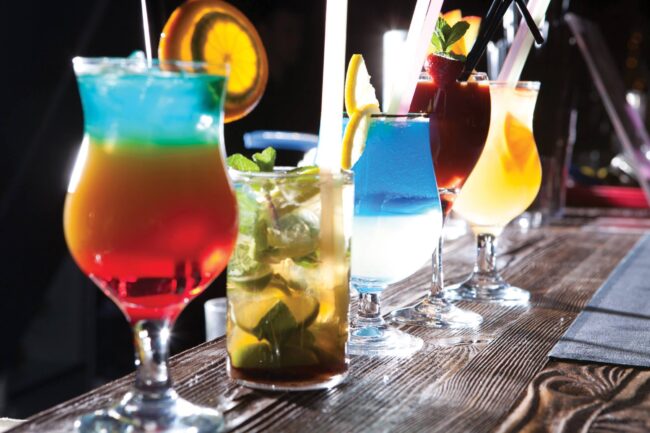 Tallinn nightlife isn't only in the Old Town. There are plenty of intriguing night spots all the way down the stretch of road leading you from the edge of the Viru gates to Pirita, the seaside area of Tallinn that once hosted the 1980 Moscow Olympics' sailing segment. There's a lot to see that isn't usually discovered by the average tourist to Estonia, and not all of it's scary, or expensive, either.
Cubanita Live Cafe
We begin with a cafe that is a favourite of Tallinn-based foreigners, as well as many locals. Cubanita is an established name in Tallinn's bar scene, but is bestknown for its weekly salsa nights. The bar, which is situated in the gold-exterior, garish Foorum centre, actually manages to beat off its Trump Tower-style surroundings and is pretty classy when you get inside.
The cocktails are excellent, as is the salsa party. Salsa is, of course, a great way to get to know new people, as it often requires people to pair with someone they have not met before. However, it's really not awkward, if you get into the spirit of the event. The DJing is invariably excellent, and the fact that a Tallinn bar is so long-running, in what is traditionally a city in which franchises change hands at a rate of knots, tells you a lot about the bullet-proof popularity of Cubanita.
IO Restoran & Lounge
A short taxi-ride away from Cubanita, IO is a new night-spot, which transforms from trendy lunch hangout for the monied Kadriorg set, to a kind of polished entertainment Batcave through the kind of technology Christian Bale's Batman would have been proud of. The floor-length windows surrounding diners are obscured at night by electronically-drawn full-length curtains, that, when the mechanism has completed its work, reveal a Renaissance-style mural.
If you're at IO for a meal, the staff are courteous and serve with a sense of humour. I was a little disappointed by my main course, but of course if you're a nightlife-seeker, you will come to IO for the events, not for the food. As an event venue, IO is almost unbeatable. The vast central performance and dance area is surrounded by dining tables, with great sightlines to the action wherever you are. You will find that you can get served with drinks pretty quickly wherever you are, as staff are attentive to your needs.
Black Taverna Lounge
http://www.blacktaverna.com/index.php/en/
First-language Russian-speakers might often opt for a post-club spot like the Black Taverna, situated just next to the Song Festival Ground on the way to Pirita, although this bar is a great place for anyone to go, and we are merely stating who makes up the majority of the clientele. Step inside and it's dark, low-lit and intimate – perfect for quiet chats about what you've just seen, or done, on the dancefloor.
The food is the best thing at Black Taverna. No matter what time of night you arrive, you'll be greeted by waiting staff who are happy to see you, and a plate of the finest sushi you'll find after midnight. When you take into consideration the problems finding food after clubbing in the centre of Tallinn that doesn't taste like rubber, it's a welcome change to find such great meals at such an early hour of the morning.
Click on the address to see the location
To learn more about this and similar topics