The European Tree of the Year competition was won by an oak tree from Poland with a unique shape
Text Mark Taylor
Photo Jakub Kubka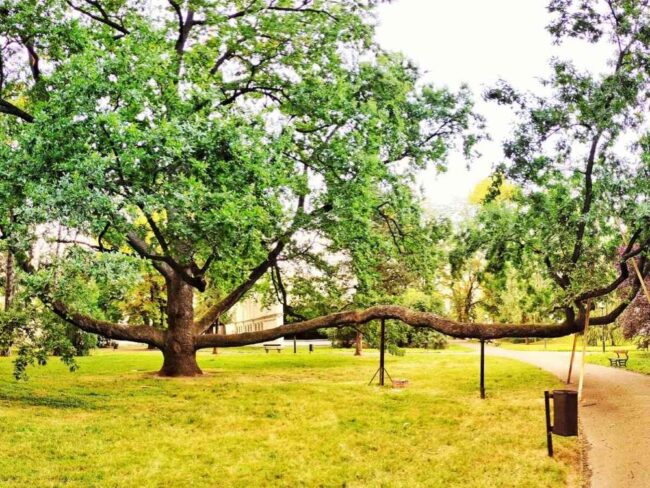 On Tuesday evening, the winner of this year's European Tree of the Year competition was announced in Brussels. The Fabrykant oak tree from Poland won by an overwhelming majority of votes. The Dragon Oak from Slovakia came second, and the Apple Tree Colony from Ukraine came third. Estonia's representative, the Reigi beech from Hiiumaa, finished in 13th place.
A total of 177,486 votes were cast for the 16 trees competing in the competition, of which 45,718 were for the winning tree from Poland. The Fabrykant oak, with its unique shape, is located in Klepacz Park in the city of Łódź in central Poland.
The majestic Slovakian oak, which came in second place, resembles a sitting dragon, hence its name. In third place, the people chose an apple tree colony from Ukraine, which also symbolises the courage of the country's people. The apple tree colony is so big that it covers an area of 0.1 hectares. It has been a long time since the main trunk of the tree was lost, but because apple tree's special feature is the ability to take root when one of the trunks dies, 15 new trunks now exist. The apple tree colony has survived two world wars and the current conflict in Ukraine. Ukraine was participating in the European Tree of the Year competition for the first time.
Estonia was represented at the competition by the red beech tree growing in the garden of Reigi Church, which the people of Hiiumaa know well both because of its special red color and its rich cultural history. The Reigi beech came thirteenth in the competition.
"What is more important than the place is that we notice and highlight the trees with interesting stories and thus boost tree tourism," said Pille Ligi from the Nature Conservation Fund, which organizes Estonia's participation in the selection of the European Tree of the Year.
To learn more about this and similar topicsApple Tree Colony Dragon Oak European Tree of the Year Fabrykant Oak Hiiumaa Poland Reigi Beech Ukraine