The best brunch places in Tallinn
Text Susanna Poikela,
Photos Elina Jaako, Tallink Hotels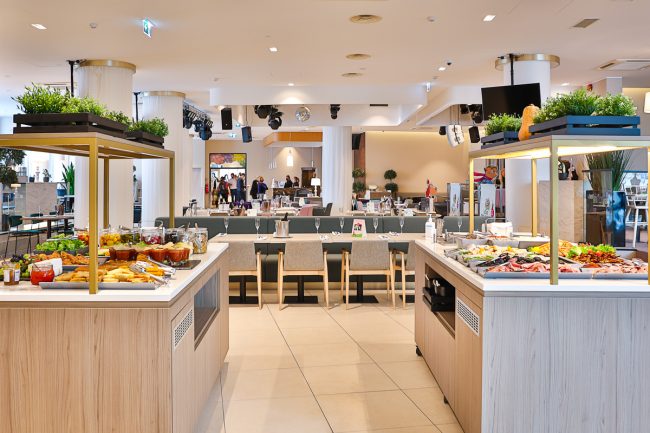 Tallink Spa & Conference's Restaurant Nero offers an international brunch menu.
What could be more enjoyable on a winter weekend trip than to sleep in and then go out and enjoy a hearty brunch. Fortunately for you, there are plenty of great brunch places in Tallinn.
All the places mentioned in the article offer traditional brunches every weekend. Cafes and restaurants that offer breakfast have not been included in the list.
Delicacies and international specialities from the buffet
In Tallinn, a few hotels offer a hearty, filling and affordable brunch. The Tallink City hotel's City Grill House brunch is full of the tastiest delicacies suitable for a late breakfast. As the name suggests, the restaurant focuses on grilled food. At Tallink Spa & Conference hotel's restaurant Nero, the theme of the brunch is a round-the-world trip, where Mediterranean cuisine is well represented. Nero also organise a program for children. Tallink hotels' Sunday brunch packages cost 27 euros with a Tallink card, including sparkling wines. Without a card, the meals cost 31 euros. Meals for 5–11 year olds cost 13.51 euros. Children under the age of 5 with a Tallink card can enjoy a late breakfast free of charge.
At the Senso restaurant in the Radisson Blu Olympia hotel, the Sunday buffet is a cleverly constructed and eye-catching ensemble. The appetizer table offers fresh and tasty cold fish dishes and various salads. Pickled forest mushrooms tickle your tastebuds. The main dishes are traditional warm dishes, such as roast beef, chicken and apricot rolls, and pike perch. The atmosphere of the stylish restaurant is unhurried and calm. The price of the buffet is 25 euros per adult, including a glass of sparkling wine, and 12.51 for 6–11 year olds. Children under the age of 5 can eat for free.

Delightful French dishes
The à la carte restaurant Rudolf in Kadriorg presents modern French-European cuisine. The restaurant is one of the many restaurants of Michelin-starred restaurateur and top chef Tõnis Siigur. Brunch is served in beautifully simple portions. The menu includes the ingredients of a traditional brunch and the price, including drinks, will be around 35–41 euros. It is recommended to reserve a table for at least a couple of hours, so that you have time to enjoy the flavours and the atmosphere in peace. A brunch menu is available on Saturdays and Sundays.
Another charming French à la carte restaurant is Päris. In the lobby's bakery-deli, you can buy fresh pastries and French food for your loved ones or to take home for later. A Sunday brunch with drinks costs around 35-40 euros. The brunch menu also includes many other delicacies in addition to traditional dishes.
Brunches once a month
A few restaurants organise a brunch only once a month. These include, among others, Mekk, Sesoon and Paju Villa. The exact dates can be found on the restaurants' websites or Facebook.
City Grill House, A.Laikmaa 5, Tallinn.
Fotografiska Kohvik, Telliskivi 60a-8, Tallinn.
Cafe Komeet, Estonia puistee 9, Tallinn.
Kohvik Sesoon, Kotzebue 18, Tallinn.
Kopli Köök, Marati 5, Tallinn.
Literaat, Telliskivi 60/2 I-hoone, Tallinn.
Mon Repos, Narva mnt 92, Tallinn.
Paju Villa, Vabaduse pst 88, Tallinn.
Ragu kohvik-resto, Liivalaia 27, Tallinn.
Restoran Mekk, Rävala puistee 3, Tallinn.
Restoran Mimosa, Viljandi mnt 6 / Kalmistu tee 1, Tallinn.
Restoran Nero, Sadama 11a, Tallinn.
Restoran Senso, Liivalaia 33, Tallinn.
Rudolf, R. Tobiase 11–1, Tallinn.
To learn more about this and similar topicsBrunch Brunch Buffet Brunch Tallinn Päris Radisson Blu Olympia Rudolf Tallink City Hotel