Telliskivi Keeps on Delivering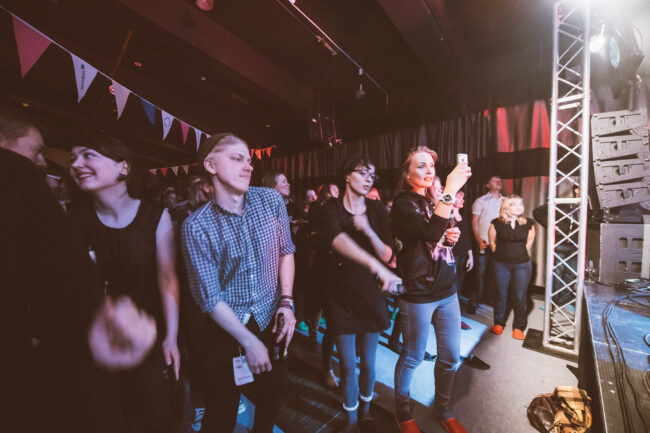 Telliskivi is an area of Tallinn now well-known to tourists and visitors for its selection of bars and restaurants, as well as a constant stream of events happening there. But there are new nightspots opening all the time there, and we thought it was time to look at one of them, while also casting an eye on some of the places people have been able to enjoy for a long time.
St. Vitus (Telliskivi 61b) opened up at the end of 2016 in a dull old industrial building that housed a cleaning company's offices, and is behind the local Rimi supermarket and a collection of recycling bins. Although the location is hardly glamorous, and the name can, if mispronounced, sound like a particularly harsh Estonian curse-word, this is a bar for everyone, that takes advantage of a very large open space to make something new and enjoyable for a social drink, or for a meal with friends.
The walls in St. Vitus are adorned with slogans, jokes and quotes, and the addition of booth seating around the edges of the building mean that groups can chat together without the stress of making themselves heard over the echo that can often prevail in such a high-ceilinged place. Having tried the burger on black bread, which comes at a quite high price for a meat patty, it's possible to say that the culinary side has some way to go before it catches up with its competition across the road, but what really impresses are the the drinks.
Estonian craft beer is, of course, well-represented in the artisan, hipster area of the Estonian capital – that's to be expected. However the usual suspects are joined by myriad brands that are perhaps only fleetingly available elsewhere, such as the strong, peppy Lager Than Life, with its amateurish bottle art that, a friend said, "needs Comic Sans," and the smooth, rich, Indulgents India Pale Ale. It'll take you longer than an evening to try everything in the cabinet, and as this column encourages responsible drinking, we recommend repeat visits.
When you're done trying new nightspots, it's always good to head back to old haunts, especially if they're as strong as they ever were. Kivi Paber Käärid (Telliskivi 60A) is a great example of a bar that has carved out a name for itself through a fun approach to service and a series of well-received events.
The bar's name means "Rock, Paper, Scissors," and the theme is continued in the toilets, where a quote about who wins the time-honoured game is cut into the wooden cubicle door. The bar itself can feel a little dark and cold when you enter, mostly because of the preponderance of dark greens and browns used for the walls and tables. but staff make up for that by being some of the very best in Telliskivi. They're given the training and the confidence to spend time advising customers on what beer or wine would be best for their tastes, and if you want food with your drink, the waiters and waitresses know inside-out the menu.
What makes Kivi Paber Käärid a nightlife entry rather than a restaurant is the regular music events that are held on the bar's stage. Every kind of live band can be heard there, along with excellent DJ sets. And if you want more in the way of top-line DJing, then on selected nights Erinevate Tubade Klubi (Telliskivi 60A, "The Club of Many Rooms") is open for business on the fourth floor of Telliskivi Creative Hub's tallest building, and if you remove your shoes, don the supplied slippers, and stroll in, you'll find a room for each of your ever-changing moods, with a bar, a video games room, a dance floor and cubby-holes for all kinds of groups. ETK is usually open until late. 
Click on the address to see the location.
TEXT STUART GARLICK, PHOTOS ANDREI CHERTKOV, ERINEVATE TUBADE KLUBI
Stuart Garlick is a journalist and English language teacher based in Tallinn. Since 2012, his blog, Charm Offensive, has covered food, music and fashion in Estonia.
To learn more about this and similar topics