Taste, as it should be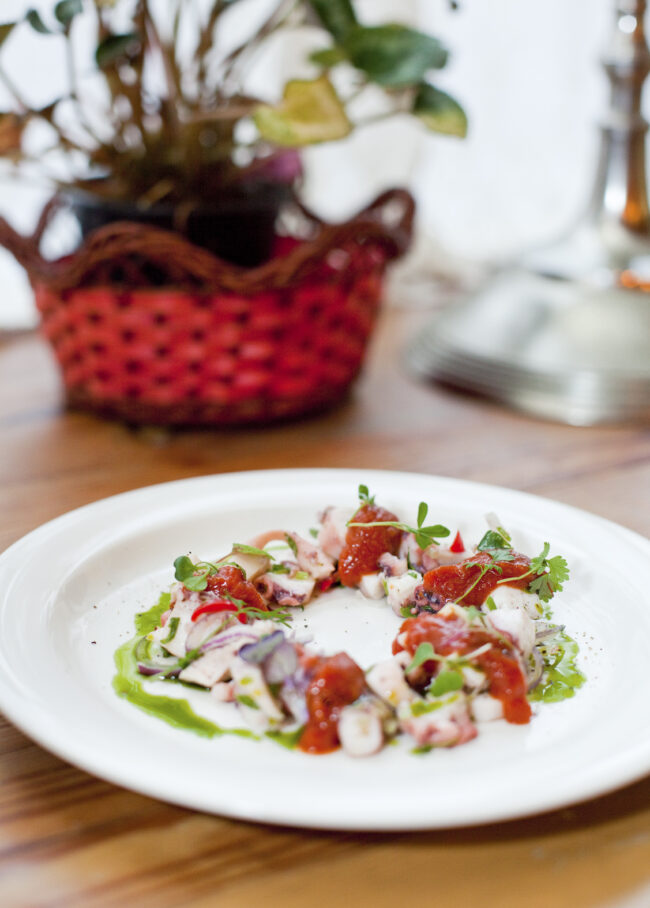 Salt, a small Kadriorg bistro, aims to share the flavours of the world.
Tiina Treumann, owner of Salt restaurant has travelled extensively. "I want to bring the flavours of favourite dishes I have tried and share them here in Tallinn". Take for example, the octopus ceviche Tiina tried at a street festival in Peru. The thinly sliced octopus is a burst of fresh flavours with lime, coriander, onion, and tomato jam. The menu changes weekly, but the ceviche has secured itself a permanent spot.
Another favourite is the beetroot ravioli. This colourful dish is fantastic whether you're vegetarian or not. Thinly-sliced beetroot is wrapped around fresh goat's cheese and served with pistachios and mango cream. But for something a little bit more substantial, the moose saddle with kale, glazed carrots, and truffle sauce will warm the coldest of nights.
To complement the everchanging weekly menu, Tiina has composed an wine list focusing mostly on artisan wines and beers. Helen, one of the servers at Salt, is a beer sommelier and can recommend beer to match the food, for something a little different.
Salt's service is top notch, yet  still friendly and casual. After a meal, it truly feels like you've been to a good friend's house for dinner.
Click on the address to see the location
TEXT KRISTINA LUPP, PHOTOS ANDREI CHERTKOV
To learn more about this and similar topics