Tallinn Café Guide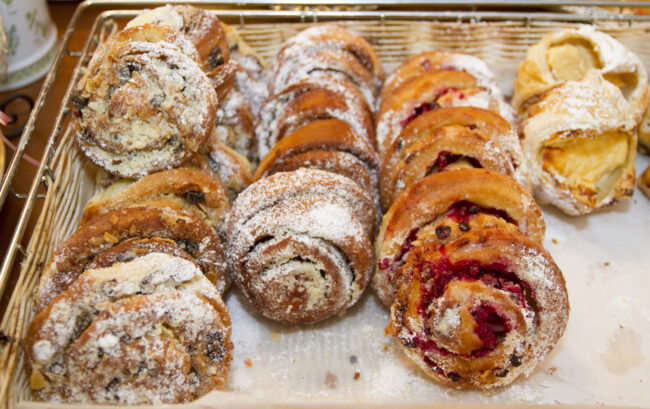 cafes, tallinn, estonia, matilda, revel cafe, Old town, kehrwieder, maiasmokk, saiakang, kochi kohvituba
Tallinn has a true café culture. It started over 100 years ago with influences from Germany and Central Europe. Pre-war Tallinn was famous for its elegant cafés and names like Stude, Feischner, Kultas and Corso are still in the minds of some of Tallinn's older residents.
Estonian cakes are something to look forward to! Some of the best are made with pressed cottage cheese or fresh whipped cream. Enjoy cakes made with fresh Estonian berries as well. Perfect as an afternoon treat with a coffee!
Matilda is well situated between the lower and upper parts of Tallinn's Old Town. This means you can stop in for a bite before making the climb up to Toompea. Everything at Matilda is made locally, using only fresh ingredients.
Kohvik Matilda
Lühike jalg 4, Tallinn Old Town I1
Reval Café
has a few locations in the Old Town. The menu offers light meals, and the display is filled with appetising cakes and pastries.
Reval Café (Old Town locations) Müürivahe 14, Tallinn Old Town I2 Vana-Viru 14, Tallinn Old Town H3 Vene 1, Tallinn Old Town H2 8 locations in Tallinn
Located right off the Town Hall Square, this must be one of Tallinn's cosiest cafés. The low ceilings and the dim lighting add to this ambiance. Delicious cakes are on display, and the coffee is some of the best in town. Across the street you can smell the coffee roasting in the Kehrwieder roastery.
Kehrwieder
Saiakang 1, Tallinn Old Town H2
Maiasmokk has great pastries and an even better interior. The rooms have been used as a café for almost 200 years! Tables are small like in old time Parisian cafés. The walls are covered with wood and mirrors, originating from its heyday when the place was called Stude.
Maiasmokk
Pikk 16, Tallinn Old Town G2 http://kalev.ee/en/maiasmokkcafe/ cafe
This café must be one of the best people watching spots in town. With an entire window as a wall facing onto the narrow Saiakang passage, sip on a coffee while enjoying free WiFi, and watching the people the go by. Pastries and freshly made salads line the display, and hot meals are available to order from the small kitchen. Saiakang Saiakang 3 Tallinn Old Town
Right next door to Kochi Ait Pub is the Kochi Kohvituba (or coffee room) in the Port district. The recently renovated warehouse turned café is the perfect place to enjoy a light lunch or coffee and a pastry. Light meals and snacks include soups, sandwiches, salads; and pastries and desserts are all prepared in house. Kochi Kohvituba Lootsi 10, Tallinn A3 www.kochiaidad.ee
This just might be one of Tallinn's best-kept secret lunch spots. Often forgotten by tourists, as it is located at the back of the Forum shopping Centre, it's worth a stop for house-made cakes and pastries, or a soup-salad lunch combo, which changes daily. In the morning you can enjoy a filling bowl of porridge. Bistroo Bonaparte Narva mnt 5, Tallinn
http://bonaparte.ee/bistro/about
TEXT: KRISTINA LUPP, PHOTOS: ANDREI CHERTKOV
To learn more about this and similar topics