Student and Spring Days in Tartu 28 April – 4 May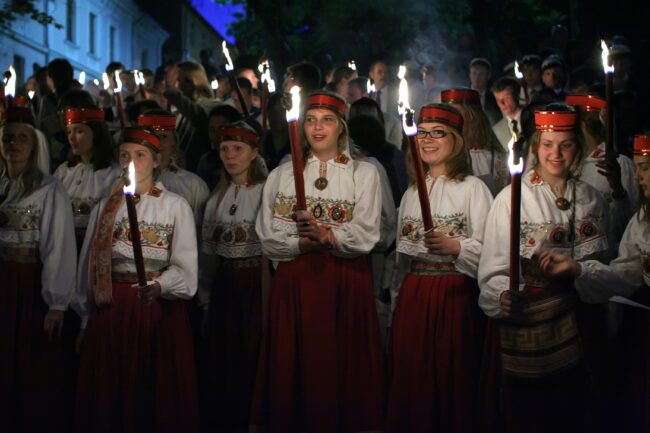 Students in traditional folk costume.
The annual Tartu Student and Spring Days is real proof that spring has arrived. The city centre is taken over by students putting on entertaining cultural and sporting events, all mixed with a bit of humour and intellectual sharpness.
Don't miss the boat race, one of the most anticipated events of the festival. It takes place along the Emajõgi River, which runs through the middle of town. Spirits are high, in spite of the strong currents and ice-cold waters. The fun is really in the eye-catching vessels, made out of anything that floats or doesn't float. One's imagination is the only limit when it comes to the construction of the vessels.
If you prefer to stay dry, warm, and on land, enjoy the student market, song festival or one of many pub rallies.
Tartu's history dates back to the 13th century, but became known in 1632 when the university was established. Since then, Tartu has become a student's city, where 20,000 of the 100,000 inhabitants are students. Some of Tartu's most well known landmarks include the Emajõgi River, which flows through the centre of town, Toome Hill, the university's main building with its distinguished columns, and of course the "kissing students" in the Town Hall Square fountain.
Academic Tartu
Tartu is the second largest town in Estonia with a population of about 100,000. It is the cradle of the Estonian Song Festival, Estonian theatre and the Estonian state. It is often referred to as the city of good thoughts; and no doubt, new ideas are sprawling and bubbling in the auditoriums, laboratories, and in the minds of students. Because of its dynamic development and innovative atmosphere, Tartu University is attracting an ever-growing number of foreign students and researchers.
TEXT KRISTINA LUPP, PHOTOS EAS
To learn more about this and similar topics