SOVIET NOSTALGIA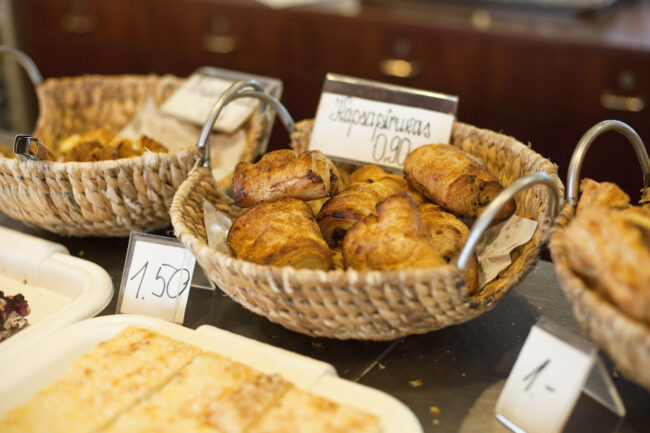 There are still a few authentic Soviet cafés left in Tallinn.
Walking into the Energia Café you are immediately taken back in time. Established in 1964, this café is located next to Kaubamaja department store and has served hungry Tallinners for decades now. The menu has almost remained the same, just like its clientele.
The red panelled walls and interior give the feeling of stability, its décor has only changed slightly since its opening. Looking out the windows you see a completely different world, the modern Kaubamaja with its customers rushing in and out of its doors, can be seen across the street.
The mood could be gauged as calm, even homey. Soviet era music is playing quietly in the background. Grey-haired guests fill the seats and enjoy the café's cuisine.
Don't go to the café on an empty stomach. Starving, I ordered seljanka soup, a salmon sandwich, as well as a strawberry cake and an "apple bomb." The soups and the sandwich were fill- ing, and by the time I made it to the apple bomb, it was already hard to find room in my stomach for it. The entire meal, including a drink cost 6€, which in comparison to many other city cafés is very cheap.
The Narva Café is located on Narva mantee in Tallinn's city centre, and draws guests in with delicious smells wafting from the opening door. At the counter you are faced with a dilemma. It's filled with wiener and meat pasties, pizza pockets, cheese buns, pastries, and rum cakes. The carrot pasties caught my eye so I decided to try those. The Come early and you'll get pastries straight from the oven. warm pasties almost melted in my mouth.
Narva Café's prices were also very cheap. The pasties and pastries cost between 50-85 cents, and a midpriced warm lunch goes for 5€. A seljanka costs about 2€. The menu has a lot more variety than at Energia Café –they offer omelettes, as well as salty and sweet filled crêpes. There is even a selection of dishes for vegetarians. You can order cookies and cakes to take away. Cake prices start at 11€/kg.
Location
Energia Kohvik, Kaubamaja 4, Tallinna.
Narva Kohvik, Narva mnt. 10, Tallinna.
TEXT MIKKOVIRTA,PHOTOSANDREICHERTKOV
To learn more about this and similar topics