Review: Frankie Animal @ Sinilind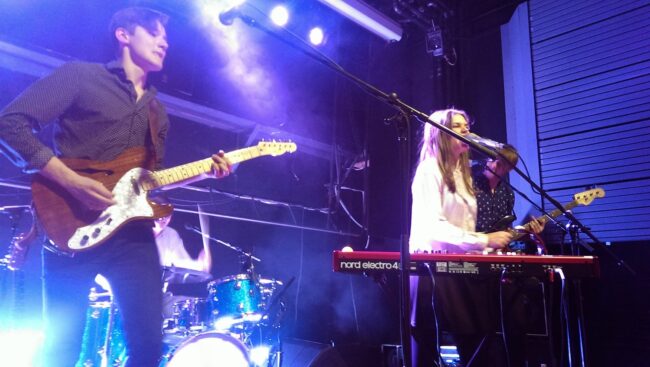 It's rare to witness a rock band evolve so quickly in the space of a year. As I have mentioned previously, I first saw Frankie Animal play live at a village fete-style festival in Uus Maailm, central Tallinn. This came after I had interviewed Marie Vaigla, the singer, and Jonas Kaarnamets, the lead guitarist. I'd heard their tentative, gentle, initial folk-rock offerings and could sense potential, but also felt, as much as "Loveless Man" was a lovely wisp of a record, that they needed what Arctic Monkeys once called 'banging tunes' to move forward.
Therefore it was interesting to return to the band almost a year later, last Saturday (April 19), in the faded grandeur of the old Kinomaja, where Sinilind bar and club now is. Frankie Animal were launching the "Obsession" EP. Marie still looked like the smart, self-aware teenager she is, though with an experienced jazz chanteuse's playful delivery, and Jan-Christopher Soovik channelled grunge, peering through a thick blond fringe while playing bass. The drummer, Karl Eerik Valkna, sat suavely behind the band in cream chinos and a crisp white shirt, an air of Charlie Watts about him, but then as soon as the music started he betrayed the utter glee of Keith Moon, hitting the skins like a boxer going for his opponent in the first round, a wild grin on his face, as if making off with the last pot of pickled cucumbers from his parents' cellar.
Jonas was a tall, clever and funny man when I met him, but, showing what self-belief can do for a man, he looked a foot taller on stage. Perhaps he was aware that, for the young women standing next to me, he was the standout heart-throb of a very young group. Whatever the case, he seemed to be handling the attention as if it were fun, but not a surprise, manipulating his guitar like a weapon, spotted shirt, skinny jeans and pointy shoes placing him somewhere between ice-cool hipster kid and Dave Davies in the earliest incarnation of The Kinks.
I'd had a discussion with a friend before the gig about how he only knew which member of One Direction Harry Styles was by his haircut, and how "you've got to get the music right before you think about the hairstyle." Therefore it comes as a relief to say that the style is still outweighed by substance.
Wilhelm, Frankie Animal's support act on Saturday, seemed not to suit the dark, cavernous former movie auditorium, their harmonic retro-folk sound better suited to more sedate venues, and their plaintive lyrics carried away by the venue's challenging acoustics. To crack Sinilind, you need a mallet, not a chisel; Frankie Animal packed their heavy implements, and did not disappoint their myriad fans.
Their early folk explorations provided variation, but it was clear most people had come to rock, something Frankie Animal do best. "End Tonight" began with the military tattoo and guitar jangle of Ocean Colour Scene at their best, and though it lacked a chorus as memorable as the riffage, Marie's Dolores O'Riordan-esque plaintiveness carried the song's emotional core. Another song from Frankie Animal's new EP, "Sightless", provided the heart-melting moment of the evening, as a five-note harmony underpins the building of a crescendo of beautiful noise.
It was their lead single, "Obsession", which took the night for Frankie Animal. Proving the adage that you should never reject a successful formula, the opening of the song apes The Clash's "London Calling", and though much of the appeal of the song, for me, is in the bloodrush of that familiar chord, the song goes off in its own direction. On the night, it got even the most sober of Estonian pogoing, moshing or tapping foot, jacket pocket or whatever was available.
It'll be a while before Frankie Animal play a festival the size of Uus Maailm again. They're on the way to very big things.
Text: Stuart Garlick
Photo: Stuart Garlick
Stuart Garlick is an English ex-pat living and working in Tallinn. His blog Charm Offensive talks about culture (music, food, etc.) in Estonia. Stuart is also a regular contributor to The Baltic Guide in English.
To learn more about this and similar topics