Over 2500 people visited Veganmess 2022
Text Mark Taylor
Photos Ken Mürk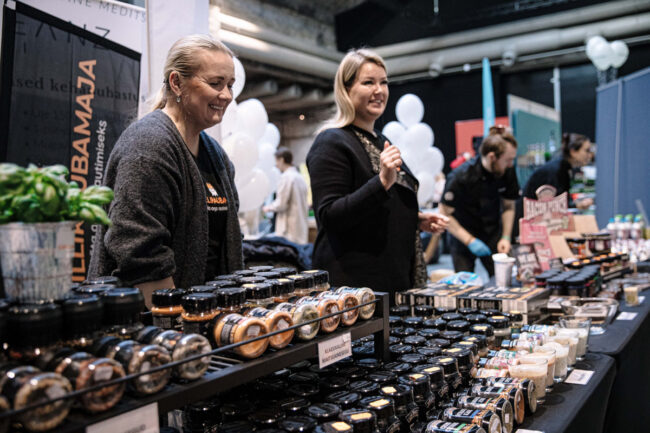 On Saturday, October 22, the 12th consecutive Veganmess took place at the Noblessner foundry in Tallinn, where nearly 70 traders and organisations participated in a vegan fair attended by 2,700 people from Estonia and abroad.
The fair offered plant-based food and consumer goods, finished products and raw materials, as well as animal- and nature-friendly cosmetics and household chemicals. There were also exciting presentations and discussions. For the first time, a charity flash tattoo event was held at the fair, during which those who wished could decorate their bodies with tattoos and in this way support the Loomus animal-friendly beauty program LILU.
On stage, personal trainer and powerlifter Gert Koovit, Kristjan and Marleen from the TV show Naabrist Parem, partners of the Loomus animal-friendly beauty program LILU, and Fridays for Future climate activists spoke about their journey to plant-based nutrition. A public recording of the Estonian Vegan podcast was also conducted with nutritionist Eliis Salm, who dissected myths related to veganism. In addition, a direct connection was made to Ukraine, where the CEO of Ukraine's largest animal protection organisation UAnimals gave an overview of the situation there.












To learn more about this and similar topicsLoomus Noblessner Noblessner Foundry Plant-based Food Tallinn Vegan Vegan Fair Veganmess