Kõnnu Suursoo and Paukjärve – An all in one Estonian nature experience less than 1 hour from Tallinn
Text Mark Taylor
Photos Ingel Kink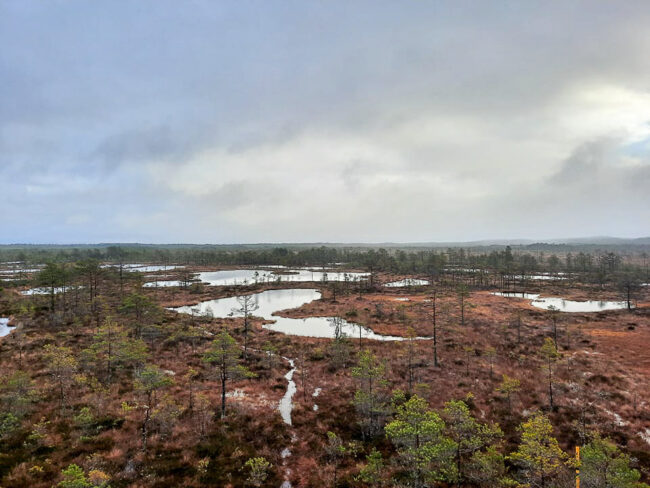 View of Kõnnu Suursoo from viewing tower in bog.
For those of you that want to get a true sense of Estonian nature on your vacation, it is hard to look further than Põhja-Kõrvemaa Nature Reserve, or more specifically, Kõnnu Suursoo and Paukjärve.
Kõnnu Suursoo translates into English as "Kõnnu Big Bog", and it certainly is big, covering 2500 hectares. To put this into perspective, the bog stretches out beyond the horizon – as far as you can see.
Unlike other bogs in Estonia, Kõnnu Suursoo is filled with countless little lakes, really adding to the almost prehistoric beauty of the place. There is one wooden walkway across the bog, that goes from Järvi Päarnjarvi camping grounds to Paukjärve. In the middle of the bog is a 8m high viewing platform. We recommend wearing sturdy boots, because the wooden boardwalk can get very slippery on wet and cold days.
However, what is more beautiful than the bog (which is one of the best in Estonia) is the ridge that separates it from the Paukjärve lake. This ridge, doesn't just provide a natural border between the bog, and a typical Estonian lake surrounded by woodland. It provides a unique look at both habitats in one place. The Paukjärve viewing tower is the must-visit place of the whole trip.
It is possible to camp for free at both the Järvi Päarnjarvi camping grounds and next to Paukjärve (in the designated RMK camping areas). If you would like to stay and camp for a night or two.
The only real downside is getting there. Although there is the occasional organised bog walk at Kõnnu Suursoo, we recommend hiring a car for the day and driving. This can be easily done using apps such as Bolt and CityBee, and is relatively cheap – ca.40-50 euros.
You can also pair this with a trip to Jussi moor or Jägala waterfall, the widest waterfall in Estonia. For a full day in the wilderness.
To learn more about this and similar topicsBog Estonian Nature Estonian Wilderness Forest Hiking Kõnnu Suursoo Lakes Paukjärve