Gallery of Food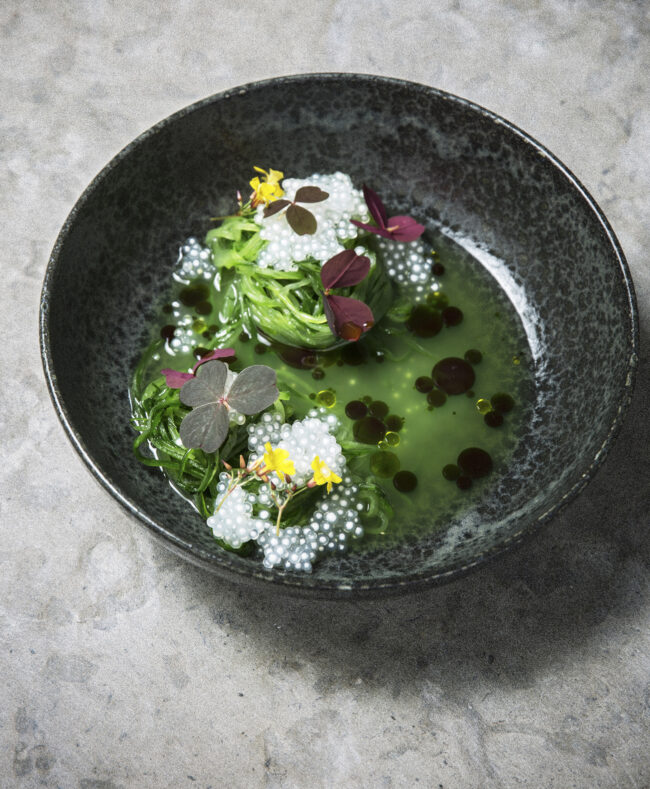 A meal at Art Priori engages both the palate and the eyes.
"Would you like a tour of our gallery before or after your meal?" I am asked as I enter Art Priori, as restaurant/art gallery that opened earlier this year in Tallinn. I opted for the tour beforehand. The multi-level restaurant has a few nooks and crannies, including a fabulous private room for group dinners. The main dining hall is located on the ground floor.
Art Priori aims to combine art and food, though the food is a work of art itself. The housebaked bread is brought to the table with spotted black butter and black chicken liver paté that I later find out is made black with ash. The amuse-bouche however is particularly fun, what seems like a homemade oreo cookie, is in fact savoury!
The feast for the senses continues as the waiter brings out the first course, romaine lettuce with roasted potato consommé, a softboiled duck egg and tomato. The light, yet earthy flavours of this dish make these simple ingredients come together for a satisfyingly complex appetiser. On the main course, roasted quail with celery root, kale and smoked beetroot sauce come served with feet and all, and yes, it's ok to eat this one with your fingers. For those that don't have much of a sweet tooth, this is the place you want to have dessert. I tried the beetroot with chocolate and can only describe it as an earthy dessert.
While Art Priori is the kind of place you come to splurge, you won't leave here feeling hungry. Between the beautiful interior, professional and friendly service, semi-open kitchen to watch all the action, and of course the creative menu, Art Priori is a dining experience well-recommended.
TEXT KRISTINA LUPP, PHOTOS ANDREI CHERTKOV
To learn more about this and similar topics