Forever BEAUTIFUL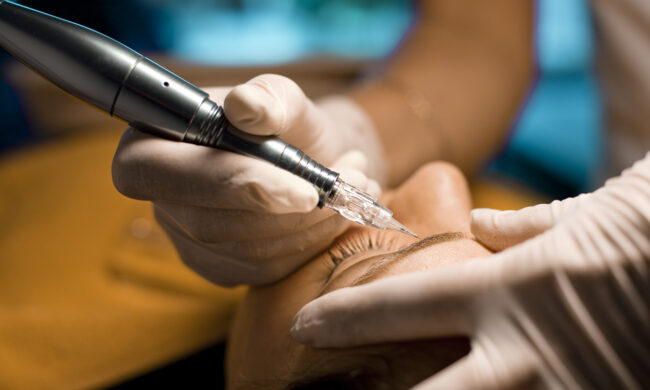 Permanent makeup does not go as far into the skin as a tattoo, but can still last from two to five years.
Permanent makeup for your eyes and lips at Vana Viru Ilusalong.
Vana Viru Ilusalong in Tallinn's Old Town is popular among locals and tourists alike. On any given day the cosy salon is bustling with ladies there for various beauty procedures. Clients are tended to immediately by the chatty and friendly staff, and walkins are welcome.
Eve Mahlapuu, owner of Vana Viru Ilusalong has ten years experience with applying permanent makeup. "It's becoming more and more popular with both older and younger ladies," she explains. For those that have never considered permanent makeup, or don't know what it is, here's how it works. When you come in for an appointment, Eve will first talk to you about how the procedure will go. The area is then cleaned and a thin layer of anaesthetic cream is applied to help with the pain. The PMC permanent make up machine is like a tattoo gun, where a small needle injects colour into the skin. Permanent makeup does not go as far into the skin as a tattoo, but can still last from two to five years.
After the procedure a lymph fluid is applied to area along with the leftover colour. Don't worry; you may bleed a little bit. This will eventually scab and heal naturally. You will have to use special creams for the aftercare as this will help keep the scab soft, the colour even, and infection away.
It's important to let Eve know of any skin problems before the treatment. For example, if you know that you have herpes then you must ask your doctor for medication like Zovirax and take it for a week beforehand. The application of permanent make- up on the lips could cause a flare up and take the colour away from the skin.
Permanent makeup can be applied to the eyebrows, eyes as permanent eyeliner, and to the contour of the lips. For older people with eyesight problems, permanent make up is ideal as you don't need to fumble around trying to put eye and lip liner on. Permanent makeup on your eyebrows can help enhance light coloured hair, or if your hair doesn't grow back from over plucking, this procedure can help enhance what hair is there. It's also great for people that wear contact lenses, or those that have allergies to eye makeup. It's also great for those that are into sports, as it won't wear off with sweat or run if it gets wet.
The cost of the procedure includes two visits. The first one for the first application, and the second is to make any corrections. The second visit, which usually happens about a month later, is highly recommended to ensure the colour stays put longer. Without the correction, colour may start to fade after only one year.
Location
Vana Viru Ilusalong
TEXT: KRISTINA LUPP, PHOTOS: ANDREI CHERTKOV
To learn more about this and similar topics