Fewer new homes built in 2022 than previous year
Text Mark Taylor
Photo Andrei Chertkov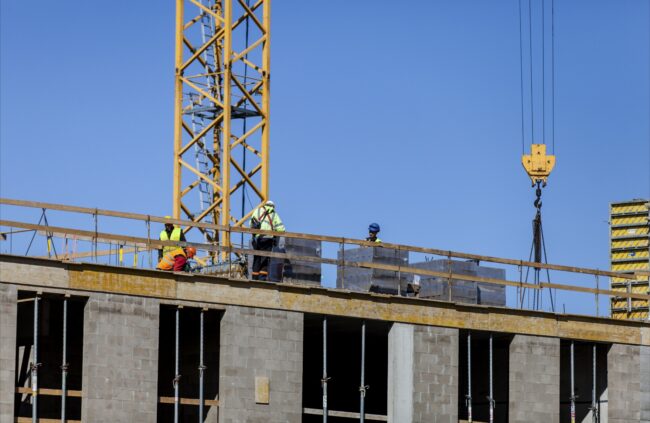 According to preliminary data published by Statistics Estonia, in 2022, the total number of new homes built in Estonia fell by 3 per cent compared to 2021. In total, the construction industry saw a contraction in production value of 1 per cent last year, caused mainly by rising costs.
In 2022, the total production value of construction companies was 4.2 billion euros, of which 2.8 billion euros was building construction and 1.4 billion euros civil engineering. Compared with 2021, the volume of building construction fell by 6 per cent, while the volume of civil engineering works (roads, bridges, port facilities, pipelines, communication and electricity lines, sports fields, etc.) rose by 9 per cent.
"The construction market in 2022 was characterised by rapid growth in construction costs," said Merike Sinisaar, a leading analyst at Statistics Estonia.
According to the Register of Construction Works, 6,521 new homes were completed in 2022, which is 3 per cent fewer than the year before. The majority (65 per cent) of the new homes are in apartment blocks. The most popular type of which were a 3–5-storey blocks.
"Although their share declined slightly last year, this has been the most common housing type for several years. The biggest share of new homes had two or four rooms. While four-room homes have dominated for years, in 2022 the share of two-room homes increased the most," said Sinisaar.
The average floor area of new homes was 87 m2. The majority of newly completed homes are in Tallinn, followed by the rural municipalities in the vicinity of Tallinn and Tartu.
Last year, building permits were issued for the construction of 6,763 homes, which was down by nearly a quarter from a year earlier.
The number of non-residential buildings completed was 977, with a useful floor area of 666,800 m2. New storage, industrial, and commercial premises accounted for the biggest share of non-residential building construction. Compared with 2021, there was an increase in both the useful floor area and the volume of completed non-residential buildings.
To learn more about this and similar topicsBuilding Construction Civil Engineering Construction Construction Statistics 2022 New Apartment New Home Tallinn Tartu