Fat Margaret and the Great Coastal Gate
Text Mark Taylor
Photo Andrei Chertkov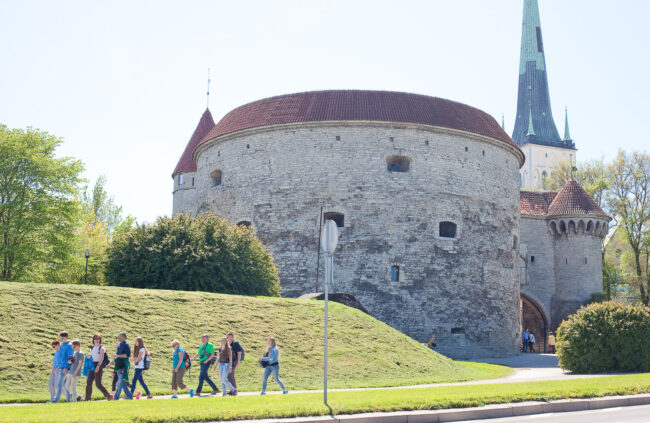 If you have never been to Tallinn, you might be asking yourself "who is Fat Margaret and what did she do?". Some of you might even be thinking is that the title of a best- selling novel (but maybe that is just me!).
The reality is, she is not a person but an imposing guard tower protecting the ancient gate from the old town to the harbour. The Great Coastal Gate dates back to the 1300's with the Fat Margaret tower (Paks Margareeta in Estonian) being added in the 1500's as the city became a major trading post of the Hanseatic League (a kind of medieval European Union).
The tower has a diameter of 25 metres and a height of 20 metres, making it an imposing structure even today. During its history, it has served many functions, from a guard tower to a storehouse. Today, the tower houses the Estonian Maritime Museum. It's prized procession being a 700 year old shipwreck found in the city's Kadriorg district.
The museum takes you on a well thought out trip through Estonia's see-fairing history, starting in Neolithic times up to the modern day as you rise up the 4 floors. At the top of the tower you will find a viewing platform with stunning views over the harbour and old town. That is the perfect place for some photos/selfies. Entrance to the tower and museum is 12 euros for adults and 6 euros for children/students. More details can be found here.
But there is still one question we haven't answered, why is the tower called Fat Margaret? The truth is nobody really knows. Although there are two popular theories, (1) the she was a former chef in the tower, and (2) it is the name of a canon that used to be housed in the tower.
To start planning your trip…
To learn more about this and similar topicsEstonian Maritime Museum Fat Margaret Great Coastal Gate Medieval Tallinn Museums in Tallinn Paks Margareeta Tallinn History Tallinn Old Town