Estonia welcomes Finland as a member of NATO
Text Timo Huttunen
Photo Kaupo Kalda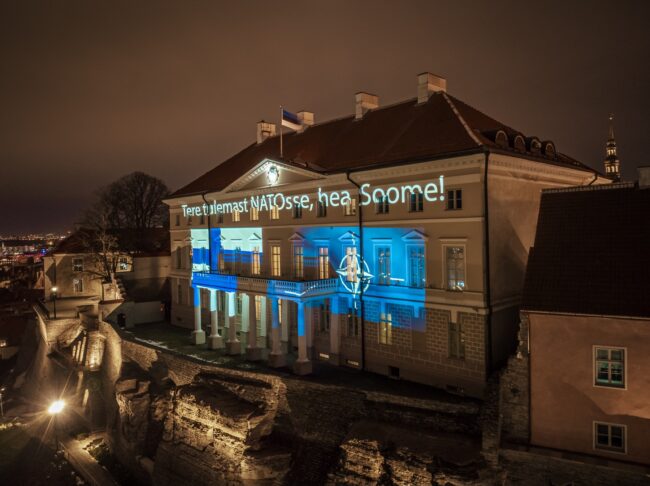 According to Prime Minister Kaja Kallas, Finland's accession to NATO is a historic moment for Finns, the Baltic Sea region and NATO more broadly.
"This is an important day for Estonia as well. Estonia and Finland have always been close friends, now we are also allies in NATO. This strengthens both our common security and the security of the entire Euro-Atlantic region," said Kallas.
"Finland's NATO membership also means that we have new opportunities to deepen our bilateral defense cooperation. The cooperation between Estonia and Finland is closer than ever before," Kallas continued.
Prime Minister Kallas said that Russia is the biggest threat to NATO and we must prepare for a wider confrontation.
"During the last year, NATO has taken significant steps to adapt to the new security situation and to strengthen the security of the allied countries. Finland's accession and NATO's expansion also show that the alliance plays a key role in ensuring Euro-Atlantic security," Kallas added.
"I hope that Sweden's accession process will also proceed quickly and that we will soon be able to welcome Sweden as a member of NATO," Kaja Kallas concluded.
"Estonia's national defense stands on three strong pillars: our nation's will to defend, our country's defense capability and our position under NATO's defense umbrella. NATO's umbrella is stronger and more united than ever. Today's NATO anniversary is made even more unique by the fact that we can welcome a new, very special member country to NATO, our good friend and northern neighbor Finland," said Defense Minister Hanno Pevkur.
"The past has not allowed Estonia and Finland to fight side by side as states, but now this moment has arrived and that's why this day is especially important," stated Foreign Minister Urmas Reinsalu.
"The expansion of NATO is a historic success story. Since 1949, 19 countries have joined the alliance. This has strengthened the alliance, ensured the safety of millions of European citizens and promoted peace and stability in the Euro-Atlantic region. NATO's door is open to all European democracies that share the alliance's values and that have the desire and ability to bear the responsibilities brought by membership, and that as members contribute to our common security," added Reinsalu.
Finland joins NATO on a symbolic day. April 4, when NATO Day is celebrated every year. Exactly 74 years ago, the North Atlantic Treaty, i.e. the Washington Treaty, was signed, which established the North Atlantic Defense Alliance, NATO.
To learn more about this and similar topicsEstonia Finland Finland NATO Hanno Pevkur Kaja Kallas NATO Urmas Reinsalu