DINING IN STYLE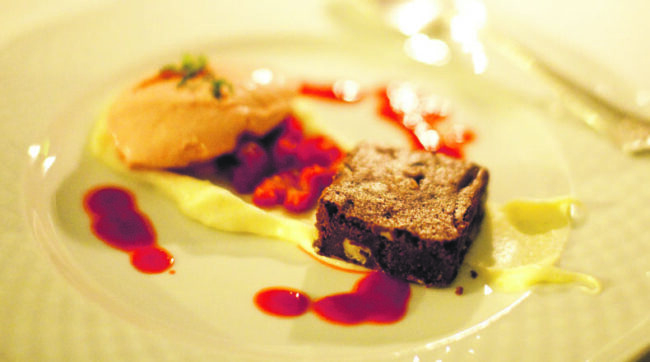 restaurant, fine dining, tallinn, egoist, tchaikovsky, robe, bordoo, bonaparte, ö, bocca, heady pinnak
1 Tchaikovsky
This elegant restaurant does just about everything right. The staff is friendly, professional, and most importantly, knowledgeable. Ask them to suggest wine, there is no doubt they have tasted the menu and are confident in their ability to pair a glass with your meal. Food portions are generous, especially after an appetiser, soup, and main course; it's difficult to squeeze in dessert. Try the langoustine pelmeni, black truffle and Jerusalem artichoke soup, and the pigeon, for something a little different. 4 courses (shared dessert) with wine pairing about 200€ for two people.
Location
Vene 9, Tallinn Old Town H2 www.telegraafhotel.com/restauranttchaikovsky
2 Egoist
You can't go wrong with classic French cuisine. This restaurant seems more of a private supper club in a castle, than a restaurant, but that is part of its charm. The head chef, Heidy Pinnak just came back from Lyon where she placed 14th in this year's Bocuse d'Or cooking competition. Restaurant owner Dimitri Demjanov has been the face of Estonian gastronomy, promoting its chefs in Europe at various cooking evetns. Egoist offers both an a la carte and degustation menu. Dishes are plated in an elegant and simple manor; no elaborate stacks here, and flavours are simple, focusing on the delicate flavours of the fine ingredients used. 4 courses with wine pairing, about 260€ for two people.
Location
Vene 33, Tallinn Old Town G3 www.egoist.ee
Ribe
It's hard to compare Ribe to the previous two restaurants, as the atmosphere is just not the same. The first three places go to two fine dining restaurants, and Ribe could be classified under high end bistro. Ribe's food presentation and food is superb. The plate design takes after some of the principles of New Nordic cuisine, meaning colourful, natural looking landscapes. Try the deer sirloin carpaccio, and the halibut with scallop mousse and crispy prawn. Save room for dessert because the soft meringue with strawberry consommé and bell pepper sorbet is divine. 3 courses (shared dessert) and bottle of wine, about 80€ for two people.
Location
Vene 7, Tallinn Old Town H2 www.ribe.ee
Bordoo
Lunch and dinner at Bordoo are like night and day. During the day, the Three Sisters hotel menu is offered. If you want to spend 15€ on a mediocre Caesar salad, then be my guest. The 16€ burger, was however quite tasty. I suggest waiting until the evening and enjoyi n g the four or five course degustation menu, where it often ends up being much more like eight courses, as chef Tõnis Siigur always adds a few amuse bouche at the start of the meal.
4 course degustation menu: 55€ per person, +48€ with wine 5 course degustation menu: 65€ per person, +58€ with wine
Location
Pikk 71/Tolli 2, Tallinn Old Town F2 www.bordoo.ee
Bonaparte
Bonaparte celebrates its 15-year anniversary this year with a new chef, Vitali Tihhonov. Tihhonov has worked in some of the world's top restaurants, including Noma. The menu is very well put together, and the tasting menu gives a good overview of the new dishes. Presentation is a bit over the top, but maybe you like that sort of thing. Many of the dishes come bubbling with dry ice or decorated with pine branches. I felt a little sorry for some of the waiters coming to the table, trying to balance these elaborately placed dishes. Nevertheless, the taste of the food was spot on, especially the cep and truffle consommé. Tasting menu: 65€ per person.
Location
Pikk 45-47, Tallinn Old Town G2 www.bonaparte.ee
Ö
Ö restaurant can also be classified under New Nordic Cuisine. While the food was elegantly yet simply presented, service friendly, and walnut bread noteworthy, the food itself was not mind-blowing. The wine list did not offer a good selection of wines by the glass, and considering the restaurant offers a tasting menu for 65? a person…just saying. The food itself was good, but I almost wish I had opted for the tasting menu, because smaller portions of each would have been ideal, for example the eel.
Location
Mere pst. 6e, Tallinn A2 www.restoran-o.ee
Bocca
The Sparkling Group, the same people that also own Tchaikovsky and Ö, owns Bocca. Locals seem to wonder how Bocca stays open, as I have frequently heard people comment something to the effect: "there is never anyone in there." This restaurant offers Italian food with a twist: linguine with foie gras, anyone? That being said, the rabbit ravioli with walnut sauce was very good. The disappointment came with the lamb sweet breads, which were overcooked and chewy. The accompanying risotto was more like milky rice. We visited the restaurant at lunch, and apart from our table there was only one other couple seated. Service was slow, very slow.
Location
Olevimägi 9, Tallinn Old Town F3 www.bocca.ee
TEXT: KRISTINA LUPP, PHOTOS: ANDREI CHERTKOV, KRISTINA LUPP, BRAND MANUAL, RENEE ALTROV
To learn more about this and similar topics