Bored of staying in hotels and Airbnb's? – Tallinn offers many choices for those looking to stay somewhere different
Text Mark Taylor
Photos Iglupark, Pirita Klooster Guesthouse, 
Hector Container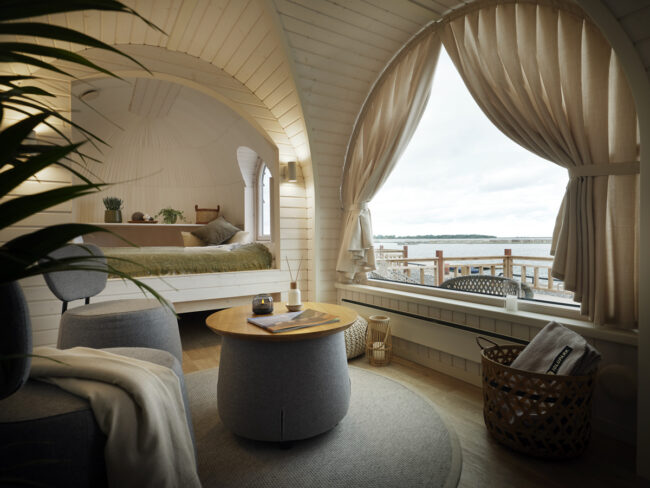 The cozy interiors of Igluhuts are made of natural materials.
Iglupark
The company Iglucraft may be known to you already. Perhaps you have seen pictures or videos of their cute little cabins online, or read about some of their high-profile owners (including David Beckham and Matthew McConaughey). But did you know that you can stay in one with sea views in Tallinn?
"After 7-8 years of building and selling the cabins around the world, there came an idea to create a showroom for the cabins, but also to create a hotel and cool environment for visitors" explains Taavi Nõmmistu, Iglupark Manager.
At Iglupark, nestled between Tallinn's trendy Noblessner port area and Lennusadam you will find a total of 10 Iglucraft craft huts that each accommodate two people. All of the cabins have a double bed, bathroom, kitchen and living area. Some cabins also have sea views, one has its own hot tub, and the best one of all has a hot tub and its own personal sauna.
On the site, you will also find five saunas, each with space for up to 10 visitors (all guests can have a complimentary sauna session each morning). Each sauna area has its own showers, an outside decking area with seating, and access down to the sea to swim. Not only can you hire the saunas while staying or for parties, you can also buy separate one-time sauna and swim tickets for 20 euros.
"You don't expect to see something like this in the city, so natural, with so much wood, people are really surprised to find it. The environment is so different from your everyday life you leave here refreshed, happy and with new ideas," shares Nõmmistu.
One night in an Iglupark cabin starts at 159 euros, with prices rising to 390 euros for the best cabin with its own hot tub and sauna. The saunas can be rented for 100 euros per hour (for a minimum of 2 hours), you can also order food and drinks to the saunas. And, if you really like your stay, you can buy your own igluhut or sauna!

Pirita Klooster Guesthouse
"The biggest and best beach in Tallinn is just across the road from here," states sister Vimala upon my arrival at the Pirita Klooster Guesthouse. "The Botanic Garden and Teletorn are also all close by," she adds.
The monastery, which was built in 2001, is unique in that that it is the only one in Estonia where visitors can stay the night. For sister Vimala and the other 7 sisters who combine their spiritual work with looking after guests, "We are welcoming guests into our home. Some people are reluctant to come to stay because we are nuns, but they never imagine that nuns would be so open and friendly."
The guesthouse, which has 20 rooms and space for up to 50 guests, has also had a couple of famous former visitors and residents. During Pope Francis' visit to Estonia in 2018, not only did he visit the monastery and plant a tree, he also rested in one of the guest rooms. The rooms of former Catholic Priest, theology professor, and Finnish Army World War II veteran Vello Salo, who lived in the monastery, are also open for guests to visit.
Unlike most hotels and bed and breakfasts which are run for profit. At the Pirita Klooster Guesthouse, when you come to stay, you will be giving back to vulnerable people in the local community. "With the money from the guesthouse, we are able to do charity work taking care of young mothers, especially minor mothers," sister Vimala explains.
A night at the Pirita Klooster Guesthouse starts at 47 euros, this includes a buffet-style breakfast. Lunch and dinner are also available on request in advance. They can also cater for vegans, vegetarians as well as those with special dietary requirements with prior notice.
Pirita Klooster Guesthouse, Merivälja tee 18

Hektor Container Hotel
Hektor Container Hotel in Telliskivi is the first and only container hotel in Baltics, but they couldn't have picked a worse month to open than they did, one month before the Covid pandemic. However, their emphasis on recycling and sustainability, not to mention flexibility has seen them not only survive but begin to thrive.
Before you arrive at the hotel, it is possible to check in to your room online, receiving your room number and pin code to access your room – saving the need for keys or a key card.
For Liisianne Kruusmägi, the Sales and Marketing Manager at Hektor Container Hotel, recycling is a key principle of the hotel. "The building (which was used in the 19th century as a train depot and as a market during Soviet times) is recycled, and the containers (in which the rooms are located) are recycled." There are also no trash cans inside the rooms, with bins where you can sort waste outside the rooms.
The other key principle of the hotel is sustainability. The bread is from a local bakery, the coffee from a nearby roastery, and you will find no one-time soaps in the surprisingly spacious bathrooms, to name just three. As well as the environment, the hotel also cares about the health of visitors, offering free yoga classes for guests.
Care was paid to every detail in the rooms which start at around 60 euros per night. "Special attention was made to choose the right pillows and matrasses. Many customers give 5 stars only for the bed" explains Kruusmägi. Each of the 84 containers is the same with space for 2 people. There are also many communal and green areas where you can relax or meet up with friends, family and colleagues if you are travelling with a bigger group.
Hektor Container Hotel, Telliskivi 62
Other unique places to stay include:
Capsule Hostels Tallinn, Pärnu mnt 106
To learn more about this and similar topicsCapsule Hostels Tallinn Citybox Hektor Container Hotel Iglupark Pirita Klooster Pirita Klooster Guesthouse Tallinn Unique Hotels Estonia