An Old Fashioned Estonian Christmas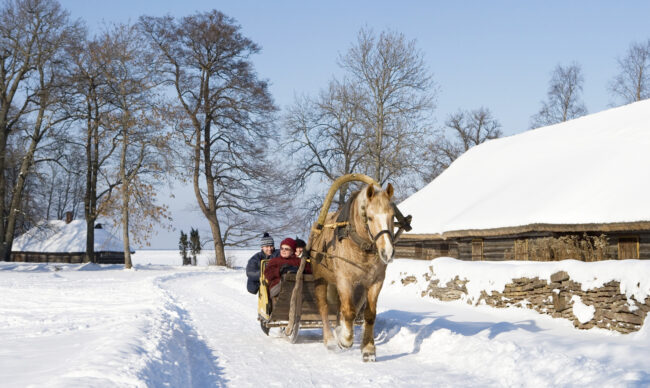 The Christmas village at the Open Air Museum presents centuries worth of Christmas traditions.
Old log houses bring Christmas to life at the Estonian Open Air Museum. Every building has its own story to tell, which only becomes apparent upon entering. The village inhabitants, dressed in period clothing, talk about everyday life and traditions. Visit the Härjapea or Sepa Farms, as well at Kuie school. Gifts for Santa's bag can be bought from the village store.
The Christmas village is open from 18-20 December. The Christmas market at Sassi-Jaani farm will be open. Listen to Christmas concerts sung by the choirs at Sutlepa chapel. On Sunday 20 December at 15.00, take part in the Christmas service in the chapel.
Christmas is celebrated at the Open Air Museum until 9 January. Included in the programme are also Seto and Old Believers' Christmas parties. Christmas food, games, and predictions for  the future will take place at both farms.
You can get to the Open Air Museum from the Balti jaam train station with buses 21 and 21B. The museum is closed 24-25 December and 31 January.
Click the address to see the location
TEXT MIKKO VIRTA, PHOTOS ESTONIAN OPEN AIR MUSEUM
To learn more about this and similar topics