An Animated History of Times Past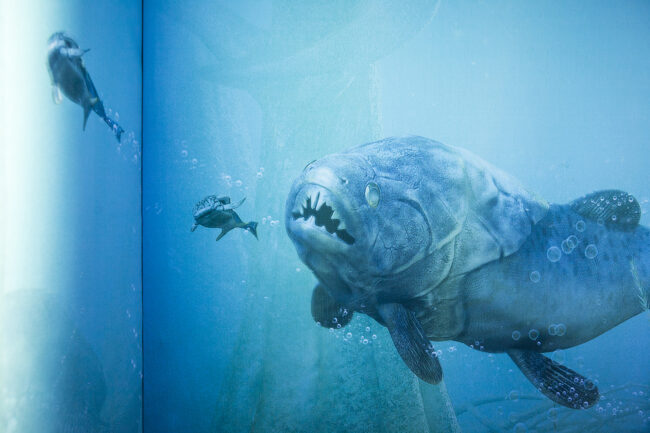 National Registry of Cultural Monuments – an almost fossilised teacher talking about something incomprehensible from half a million years ago.
The Estonian Museum of Natural History has fixed this problem. The exhibition "The Secrets of the Ancient Sea" opened in January and takes you to the bottom of the sea. A virtual world has been has been created, where you can see the development of life over the last half million years to today at the bottom of the Baltic Sea with your own eyes. Beautiful sea creatures move, the bigger ones attack the small ones, and colourful aquatic plants float by.
The exhibition's curator Kairi Põldsaar is noticeably excited about the exhibition.
"It's so difficult to talk about geology, especially that of the Estonian seabed and its changes. So we decided that we would make a video instead!" explains Põldsaar.
The Estonian animation studio BOB Animation came to help; together with the museum's specialists, they created an underwater world. The end result is the exhibition, which instead of making you yawn, has a 'wow' effect, so that questions start to form. Põldsaar is happy to report that the exhibition is engaging to children to stay staring with wonder and amazement at the sea creatures and aquatic life, wanting to know more about them. It's not surprising either that throughout the exhibition's short run it's received much praise for its unique approach. In addition to the virtual element, there are fossils found in Estonia on display around which the sea creatures have been drawn.
The deep sea is but one element of the museum's exhibitions. The three-storey museum also looks at Estonian rivers, lakes, forests, and animals.
"The Secrets of the Ancient Sea" is open until March 2018. The museum is open from Tuesday to Sunday. 
Location
Estonian Museum of Natural History (Eesti Loodusmuuseum),
Lai 29, Tallinn Old Town
www.loodusmuuseum.ee

Click on the address to see the location.
TEXT SILJA HURSKAINEN, PHOTOS ANDREI CHERTKOV
To learn more about this and similar topics