A modern museum telling the stories of Tallinn's oldest residential district
Text Susanna Poikela
Photos Kalamaja Museum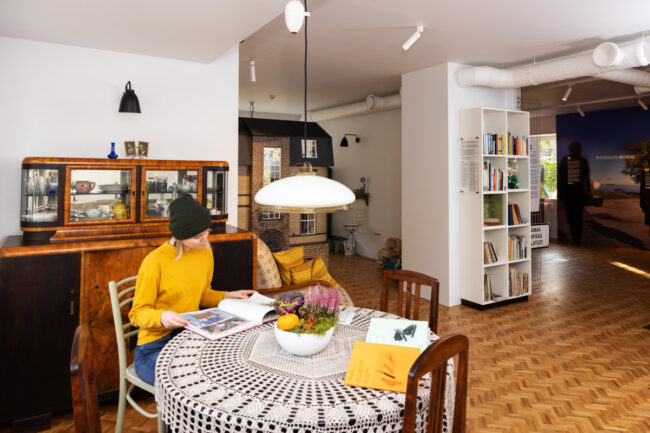 In addition to the main exhibition and changing exhibitions, workshops and events for the whole family are held on the museum premises.
The Kalamaja area is located in northern Tallinn. The southern side of Kalanmaja extends to the Old Town Snellli Park, or Toompark. To the north, the area ends at the elegantly restored Noblessner Harbor.
Today, Kalamaja, which is full of artists, creative companies, restaurants, bars and cafés, is one of Tallinn's most interesting urban areas, which is worth spending at least one full day exploring.
Exploring the area can be started at the Kalamaja Museum on Kotzebue Street, which opened in September last year in a funk-style house built in 1934.
"In the past decades, the building has housed the Kalinin Museum, the Art and Applied Arts Gallery, the Puppet Museum and Tallinn Children's Museum. Eventually, the current Kalamaja Museum was opened in the renovated premises, which tells the history of the area and at the same time represents all the old wooden house areas in Tallinn," says curator Tuuli Silber, who has compiled the museum's collections.
The museum holds a lot of documented history, yet is compact in size and imaginatively decorated. This makes the museum homely and typical of the Kalamaja area.
"Private individuals have donated a wealth of artefacts and other materials for use in the museum. Donations are really important because the generation born in the 1930s, for example, will soon disappear, and all the old stories about Kalamaja will disappear with them," Silber explains.

The permanent exhibition, "A village in the middle of the city. Stories about Kalamaja " tells about the life of the residential area through six typical residents of Kalamaja. They are a woman, a man, a child, an ancestor, an artist of life and an animal living in Kalamaja.
These imaginary figures from the area live in different time periods, from the Middle Ages to the present day. "They appeared in the stories of so many residents in the area that they had to be utilized in the main exhibition as well," Silber added.
The museum also reveals the original and exciting stories of the area's residential buildings. Changing exhibitions are held regularly around the Kalamaja area and are free.
To learn more about this and similar topicsKalamaja Kalamaja Area Kalamaja Museum Kotzebue Museum Museum Tallinn Tallinn Tuuli Silber